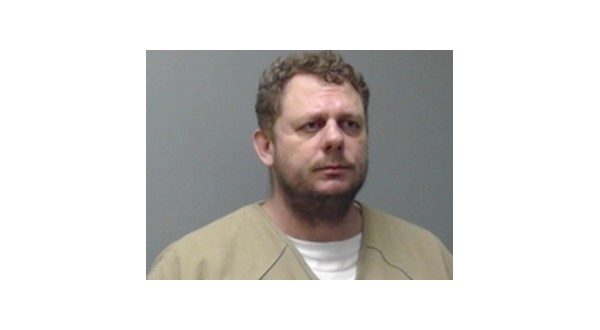 Photo: Bryan Louis Herring
A man alleged to have scattered an estimated $40,000 in bad checks in a number of Arkansas locations has been declared a fugitive.
He is also being sought in other locations in Arkansas and at least one state.
Forty-eight-year-old Bryan Louis Herring, who listed a Batesville address when booked into the Baxter County Detention Center in early July last year, was a no-show during a session of Baxter County Circuit Court Thursday.
Mountain Home attorney Emily Reed represents Herring in some of his Arkansas cases. She told Circuit Judge Gordon Webb she had had no contact with her client, and he is being sought by several Arkansas counties where he has been accused of crimes.
Records do not show Herring is incarcerated at this time.
Herring is accused of buying an outboard motor from a local dealer in late April last year using a $3,200 check written on a closed account at First National Bank of Izard County.
Herring was alleged to have then gone down the road into Izard County and passed another hot check on the same closed account for $3,500 to purchase a boat and motor he later sold to another party.
In addition to using worthless checks to purchase the two outboard motors and the boat, Herring has made a number of other buys using hot checks.
In 2017-2018, he purchased:
— A 2014 pickup truck for almost $21,000 in the small Benton County city of Bethel Heights. He was reported to have used a Louisiana driver's license for identification.
–Merchandise worth an estimated $7,000 from a farm supply store in Ash Flat, including a chainsaw, mower, weed eater and a trailer.
–A 20-foot-trailer for almost $4,800 from a manufacturer in Springdale.
According to electronic court records, criminal charges have been filed against Herring in Baxter, Benton, Craighead, Independence, Izard and Lawrence counties.
Herring was also sentenced to 45 months in federal prison in 2014 stemming from a bogus boat sale in which he was allegedly trying to scam money from his "customer" – a dentist with offices in Foley, Alabama, and Pensacola, Florida.
In federal court records, Herring's first name is spelled "Brian" instead of "Bryan," but the birthdate is the same.
A federal grand jury in the United States District Court for the Southern District of Alabama reviewed the evidence in the boat sale scam and indicted Herring, charging him with wire fraud and aggravated identify theft
The grand jury reported Herring is alleged to have told the doctor to wire $12,500 to Herring's account at a bank in Foley, Alabama, as a down payment on the boat the dentist thought he was buying. Herring indicated the money would be transferred to a third party involved in the sale.
The government alleged the transfer to the unnamed "third party" never took place, and Herring withdrew most of the money on April 25 and 26, 2013 and used the funds himself.
At some point, Herring was alleged to have used a pretext to write down the numbers of one of the doctor's credit cards. He was accused of using the information to make a number of purchases at the Undertow Bar and Grill in Orange Beach, Alabama.
Herring is alleged to have told workers at the establishment he had canceled his personal credit card, making it necessary to use the numbers he had written down on a piece of paper to pay his tabs.
The purchases made at the bar and grill during a three-day period in April 2013 totaled $500 and were all sent in by the bar and grill staff based only on the numbers scribbled on the piece of paper and approved by the issuer of the doctor's credit card.
He is also accused of walking out of a Florida motel leaving a $1,700 bill unpaid.
He was sent back to federal prison for numerous violations of the terms and conditions of his supervised release. The violations included the crimes he is reported to have committed in Baxter County.
In April last year, a document was filed in his federal court case laying out all the violations. In addition to writing the hot checks to make purchases in a number of Arkansas location, Herring admitted he had used methamphetamine and other drugs and consumed alcohol.
He was also charged with leaving the federal judicial district in Arkansas that had control of his case without permission of the court or a probation officer. According to court records, his trips to Mountain Home, various cities in Northwest Arkansas and locations in both Florida and Indiana were all violations.
Herring alleges he has been diagnosed as bipolar. He said he had been taking classes aimed at correcting his "thinking patterns," and taking medication to "help assure this kind of thing doesn't happen again."
WebReadyTM Powered by WireReady® NSI