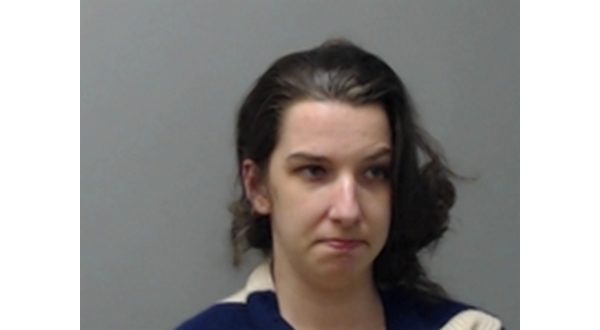 Photo: Vanessa Henschel
A Briarcliff woman with a history of attacking people both inside and outside the Baxter County jail and sitting mute during court appearances continued her silent treatment during a session of Baxter County Circuit Court last Thursday.
A hearing was held to determine if 28-year-old Vanessa Henschel's probation should be revoked in a case in which she stabbed another woman at a Mountain Home motel in 2016. A petition to revoke the suspended sentence was filed in March.
At the conclusion of the hearing, Circuit Judge Gordon Webb revoked three years of the 12-year probation sentence. Henschel will spend that time in prison.
Judge Webb said he was frustrated "there is such a gap in our healthcare system in Arkansas. We really have no place to send a person like Vanessa Henschel except to prison or jail."
He said he hoped Henschel would take advantage of what treatment programs are available during her prison stay.
Through the years, Henschel has used her fists, a knife, a backpack, a forearm and a tool used to trim hedges against her victims.
The victims have included a former friend, her father, jailers and fellow inmates. According to court records, the attacks were unprovoked.
She has refused to speak to her own attorney, judges, prosecutors and psychological examiners.
Throughout last Thursday's hearing, she sat mute, although both Judge Webb and her attorney, Deputy Public Defender Mark Cooper, encouraged her to participate in the hearing.
Judge Webb and Cooper made comments during the hearing that Henschel's case had been very frustrating because of her unwillingness to speak in order to participate in her own defense.
The hearing last Thursday basically centered on whether Henschel was a person suffering brain damage or a violent individual who was a danger to the public.
Cody Gilbert, Henschel's probation officer, and two investigators from the Baxter County Sheriff's Office testified on their encounters with Henschel. All three witnesses agreed she was a risk to public safety. Gilbert said she had been on "maximum supervision," which required many more person-to-person contacts than other supervision classifications.
Henschel's mother told the court she wanted to see her daughter get the help she needs, and she hoped the court would extend her probation instead of sending her to prison.
She testified she had been made her daughter's legal guardian in Texas to enable her to exercise some control over Henschel. Prosecutor David Ethredge questioned the mother as to how she could have been made a guardian for her daughter, since she was a convicted felon. The mother said the guardianship had been approved in Texas. "There were about five lawyers around, and they said it was fine," she said.
Jerry Caster, who knows Henschel through his volunteer work with the Salvation Army's homeless program, also took the stand for the defense. He said it was "quite obvious" to him "she did not know what was going on around her, where she was or what she was doing." While Caster referred to Henschel as brain damaged several times, he offered no proof beyond his statement.
Henschel had been given several psychological evaluations to determine her fitness to proceed in her cases and whether she could be held criminally responsible for her actions.
The evaluations have determined she is both fit to proceed and capable of being held criminally responsible for her actions. The most recent evaluation was not completed because Henschel would not cooperate with the psychologist.
Judge Webb has attempted to illicit comment from Henschel on numerous court appearances without success. The judge has told Henschel a number of times she is the only one being hurt by her silence.
Ethredge told the court Henschel had proven herself "a danger to the citizens of this community. When she is not in jail, when she is walking among us, she is prone to violently attack people or break into their homes."
In late January, Henschel, was locked up for attacking a homeowner at a residence along County Road 15 after using the man's truck without permission to make a trip into town and back.
While in jail on charges stemming from the January incident, Henschel struck a female jailer on the left side of her face and head using her left fist and forearm.
The jailer recovered from the blow and attempted to restrain Henschel, but the inmate continued to be combative. After help arrived, Henschel was put in a restraint chair for a brief time, before being returned to her housing area.
Henschel's attack on the jailer resulted in charges of second-degree battery and impairing the operation of a vital public facility. She has also attacked a number of fellow inmates for no apparent reason, according to incident reports filed by the sheriff's office.
In the January case, Henschel is charged with aggravated residential burglary, theft of property, aggravated assault and third-degree battery.
According to the probable cause affidavit filed in the case, the Baxter County Sheriff's Office received a report of a burglary at a residence along County Road 15 in late January.
The homeowner said he arrived back at his residence to see his truck being driven up his driveway. He said he saw a female, later identified as Henschel, exit the truck and go inside the garage. He told investigators he followed her and made contact in the garage.
After some conversation, Henschel is reported to have punched the homeowner in the head and then armed herself with a pair of "hedge clippers" and attempted to attack him.
The homeowner went to a neighbor's house to call 911.
The first Baxter County investigator on the scene recognized Henschel from previous encounters. The investigator asked Henschel what she was doing on the property. As opposed to her court appearances, she spoke to the investigator, telling him she lived there.
During her testimony, Henschel's mother told the court the people who lived in the house had the same first names as her and her then-husband, and she believes her daughter "became confused and thought she lived in the house."
The investigator asked her where she had gone in the homeowner's truck, and she said she had been to "town and back."
The homeowner and the investigator walked through the residence. They saw the window over the kitchen sink had been broken, and blood was found on the sink and floor.
It appeared Henschel had helped herself to snacks and a soft drink and rested in one of the bedrooms. They also found dresser drawers pulled open and $60 in cash was missing from a closet. The homeowner's wife said items of her clothing and jewelry were also missing.
It was determined Henschel had been wearing some of the missing clothing and jewelry at the time she was arrested.
The case in which the state was asking for a revocation of her probation stems from an incident Feb. 2, 2016. Henschel was accused of entering a room at what was then the Town and County Motel and stabbing a former friend. Henschel was charged with first-degree battery.
According to the probable cause affidavit in that case, the victim's boyfriend let Henschel into the room based on her past relationship with his girlfriend.
He then went outside to retrieve articles from a vehicle, when he heard screaming and ran back to the room. He told investigators he found Henschel astride his girlfriend stabbing her. The boyfriend struck Henschel, knocking her off the victim.
The victim, who received non-life-threatening injuries, was stabbed in the neck and torso. She told police there was no conversation between her and Henschel prior to the attack. She said she was in bed and Henschel jumped on top of her and starting stabbing her, saying, "I'm sorry" throughout the incident.
Henschel underwent a psychological evaluation during the course of the stabbing case and was found fit to proceed. She spent 530 days in the Baxter County jail, prior to being sentenced in the stabbing case.
Henschel has also been in trouble for punching her 62-year-old father. In mid-July last year, a Baxter County sheriff's deputy responded to an address along Bonnie Lassie Drive in Briarcliff to meet with Henschel's relative.
The father reported earlier in the day his daughter had punched him numerous times on the side of the head and hit him in the face with her backpack. The father said he left the residence to get away from her.
When he returned home in mid-afternoon, he found his daughter gone and his flat screen television damaged.
Henschel was eventually located at an address along North Highland and taken into custody.
WebReadyTM Powered by WireReady® NSI