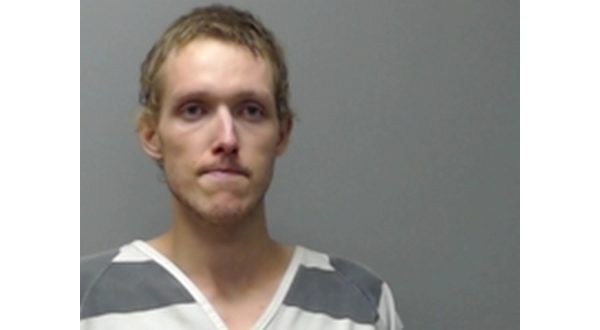 Photo: Austin Wayne Greer
A man arrested after being found naked and running in circles claiming snakes were after him appeared in Baxter County Circuit Court Thursday.
Twenty-six-year-old Austin Greer of Jordan was taken into custody shortly before 1 a.m. Sept. 3.
According to the probable cause affidavit the incident began when a Baxter County deputy sheriff responded to a burglar alarm at Woods Feed Store along Arkansas Highway 177 South.
The deputy reported the owner was also at the scene. A naked Greer was observed running in circles in the parking lot of the business.
Based on earlier contacts, the deputy knew Greer and asked him what was happening to cause his odd behavior.
Greer is alleged to have said there had been a snake in his boot that crawled up his pants leg and began biting him.
He said he took off his clothes to get the snake off him. Greer said he had been running in circles because snakes, which he believed to be copperheads or water moccasins, were chasing him and crawling into his body.
The probable cause affidavit switches from a single snake in his boot to a number of snakes chasing him.
As they talked, the deputy reported Greer continued to swat at his body in an effort to get the snakes off.
The owner of the business told the deputy the front door to his building had been kicked in. He said it did not appear anything had been taken.
Greer's clothing was not found at the scene.
The deputy reported Greer's pupils were dilated, and he was "very sweaty." He was believed to be on "some kind of hallucinogen or other drug," according to a sheriff's office press release.
On the entire ride from the scene to the Baxter County Detention Center, Greer claimed snakes were all over the backseat of the patrol car, according to the deputy.
He was charged with commercial burglary, disorderly conduct and public intoxication.
He remains an inmate in the county jail with bond set at $10,000. He was ordered to reappear in circuit court Oct. 1.
WebReadyTM Powered by WireReady® NSI