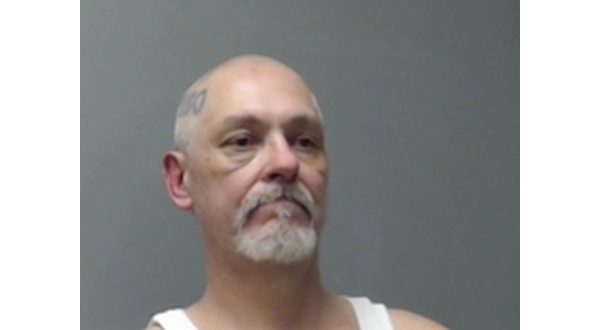 Photo: James John Seawell
A man who once rode his old bicycle into the Mountain Home Walmart and rode out with a new one, while proclaiming he was a police officer is back in jail.
Fifty-two-year-old James John Seawell was booked into the Baxter County jail Sept. 12 on charges of possessing a drug and paraphernalia to ingest the illegal substance.
He appeared in Baxter County Circuit Court Thursday and entered a not guilty plea to the charges against him and was ordered to reappear Oct. 1.
Seawell's arrest on the drug charges stemmed from an investigation into an alleged theft in which the victim had named him as a suspect.
While a Mountain Home police officer was interviewing the victim, Seawell was reported to have walked up and began telling the victim he had not been involved in the alleged theft.
The officer reported Seawell appeared to be under the influence of a stimulant. He said Seawell admitted to "relapsing" the night before.
As the officer searched Seawell for weapons, he felt a syringe in the man's right front pants pocket.
According to the probable cause affidavit, Seawell made an attempt to place his hand in his pocket. He then was said to have admitted he was carrying a needle.
In addition to the needle, the officer reported locating a plastic bag containing a white crystalline substance Seawell was alleged to have admitted was methamphetamine.
Seawell was placed in custody and taken to the Baxter County Detention Center.
In January, Seawell was arrested for the "bike swap" and charged with theft of property, resisting arrest, fleeing and impersonating a police officer.
When he rode into the Walmart on his old bike, Seawell was wearing a black tee shirt with "Police" printed on it.
Seawell was not picked up immediately.
He was nabbed later when two Mountain Home police officers came to Baxter Regional Medical Center on an unrelated call.
As they were standing outside the Emergency Room entrance, they spotted Seawell walking toward them.
Seawell was said to be an exact match to images seen on Walmart surveillance video of the bicycle thief.
When they asked to speak to him, Seawell said he needed to get to the Emergency Room and ran toward the entrance.
He was taken to the ground and placed in hand restraints.
Sewell has pled not guilty to the charges in the bike theft case. He is due to reappear in that case Sept. 24.
The latest charge in Baxter County has resulted in a probation violation in a Sharp County case involving another theft from another Walmart.
Seawell was arrested on Dec/ 20 last year when he attempted to walk out of the Ash Flat Walmart with almost $4,000 in merchandise without paying.
According to the probable cause affidavit in that case, Seawell ignored Walmart personnel who attempted to engage him, as he walked out of the store with a large red tote filled with unpaid items.
Police found him slouched down in the backseat of a vehicle in the store's parking lot with a bandana on his face.
He was reported to have been holding a pipe suspected of being used to ingest methamphetamine.
The female driver of the vehicle was reported to have nearly hit an Ash Flat police officer, as she sped out of the parking lot.
The vehicle was stopped shorty after. Seawell refused commands to exit the vehicle and had to be forcibly removed.
The names of most of the others involved with Seawell in the Ash Flat theft are well known to Baxter County law enforcement.
Seawell was put on four years probation in the Sharp County Walmart theft case.
WebReadyTM Powered by WireReady® NSI