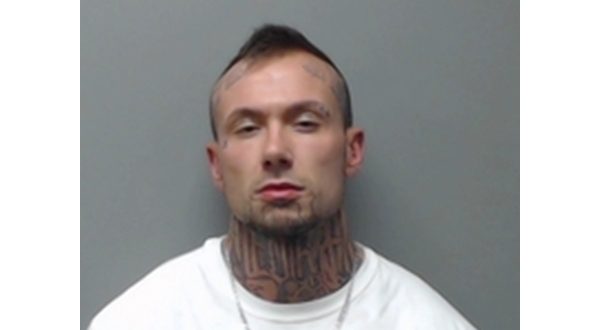 Photo: Ryan James Lindsey
As he has done in the past, Ryan James Lindsey wasted little time in getting locked up after being released from prison.
According to electronic records, the 27-year-old Lindsey's latest release from prison came April 23.
He was listed as a fugitive July 31, only 100 days after being set free.
Lindsey was arrested and booked into the Baxter County jail Aug. 19, charged with theft by receiving. The charge stems from an allegation that he was in possession of a motorcycle reported stolen in Mountain Home in early July.
During an appearance in Baxter County Circuit Court Thursday, a waiver of arraignment and plea of not guilty were entered by Deputy Public Defender Sam Pasthing on Lindsey's behalf.
The victim reported to Mountain Home police that his motorcycle was parked outside his residence July 3 and missing the next morning.
According to law enforcement sources, prior to being declared a fugitive, Lindsey was pulled over for speeding while riding the allegedly stolen motorcycle.
The stop was made by an Arkansas State Police trooper in Cleburne County July 26.
He was apparently issued citations based on traffic infractions and released. The motorcycle was reported to have been seized, after it was determined it had been reported stolen from Mountain Home.
According to the Baxter County Detention Center log, Lindsey was booked into the jail on a charge of theft by receiving.
Lindsey formerly resided in Baxter County, but records show he has lived in the Heber Springs area in the recent past.
On a social media post, Lindsey lists himself as a welder/fabricator for a truck and trailer business in Little Rock.
All of Lindsey's prison time has been imposed based on crimes committed in Baxter County.
The first criminal case was opened on Lindsey in 2010, when he was a teenager.
Lindsey's was a familiar face in Baxter County Circuit Court.
After his first brush with the law in 2010, he had other criminal charges brought against him in 2011, 2012, 2014, 2016 and 2017.
In the latter case, the charges against Lindsey stemmed from a 2017 raid on his "known residence," located along County Road 27.
When officers made forced entry into the home, they found Lindsey, a female and drugs. Both Lindsey and the female were reported to be on parole at the time.
According to the probable cause affidavit, the cellphone belonging to the woman allegedly showed she had ordered a quantity of meth and was awaiting delivery of the drug.
Drug paraphernalia was also found in the house.
Lindsey had been paroled May 26, 2016 before being locked up again on charges stemming from the Sept. 27, 2017 raid.
Lindsey pled guilty to the drug-related charges in early 2018 and was sentenced to six years in prison.
He was serving the six year sentence when he was paroled in late April this year.
After his latest release from prison, he was being supervised by a parole officer in the Little Rock office of Arkansas Community Corrections.
Through the years, Lindsey has been charged with theft of property, drug-related offenses, having a defaced firearm, bringing contraband into the Baxter County jail and being a felon in possession of a firearm.
WebReadyTM Powered by WireReady® NSI