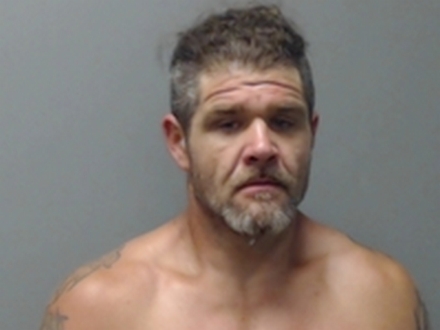 Photo: Gerald Phillip Morris
Before entering the Baxter County Detention Center Thursday afternoon, the bookings of a rural Mountain Home man equaled his age — 39.
Baxter County Sheriff John Montgomery says Gerald Phillip Morris was arrested "yet again" Thursday on felony drug charges.
Sheriff Montgomery says officers from several agencies went to a residence along County Road 1008 in the rural Mountain Home area to conduct a probation home visit on Morris, a parolee with Arkansas Community Corrections.
Morris had two outstanding arrest warrants for failure to appear in court on two separate prior arrests for drug offenses. He had a search wavier on file.
During a search of the residence, officers found approximately 60.58 grams of methamphetamine inside a wooden box hidden in the air conditioner vent of Morris' bedroom. A portion of the meth in six packages weighing between 2.5 and 3.9 grams. The illegal drug was packaged in a fashion commonly used to dispense meth on a retail or street level. A measuring spoon device that appeared to have been used to weigh and measure methamphetamine was also found.
In addition, officers found several used syringes, additional drug paraphernalia and approximately 60 grams of marijuana. The marijuana had been separated into smaller portions commonly used for dispensing.
Morris has an extensive criminal history with numerous felony convictions. He was out on bond with charges pending from multiple agencies for both drug and firearms offenses, qualifying him as a habitual offender.
Records indicate in addition to the 39 times he has been booked into the Baxter County jail, Morris has been to the Arkansas Department of Correction (ADC) six times and is on parole from a 10-year sentence.
His prison time at ADC for his multiple offenses totals approximately 37 years, but he has roughly served only 5.5 of his 37 years of sentences. Montgomery says this does not take into account the number of times he has been given probation in the past.
In his latest case, Morris has been charged with
– Possession of methamphetamine with purpose of delivery – felony
– Possession of marijuana with purpose of delivery – felony
– Possession of drug paraphernalia (3 counts) – felonies
– Possession of drug paraphernalia – misdemeanor
– Habitual offender – penalty enhancement
– Failure to appear (2 counts) – felony bench warrants
Morris has a bond of $35,000 on the new charges and is being held without bond on the failure to appear warrants. He is set to appear before the circuit court to answer next month.
Agencies participating in the arrest and search were the Baxter County Sheriff's Office, Arkansas Community Corrections Fugitive Task Force, Arkansas Department of Correction's canine team and the Mountain Home Police Department.
WebReadyTM Powered by WireReady® NSI