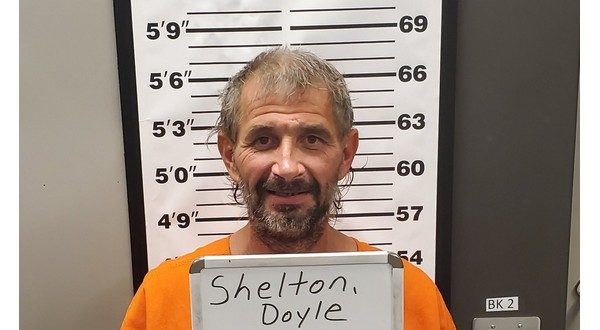 After searching for a Douglas County man for almost two weeks, officers from three counties in southern Missouri took 46-year-old Doyle Wayne Shelton Jr. of Ava into custody Wednesday night near Theodosia.
Douglas County Sheriff Chris Degase says Shelton is wanted in connection with an incident earlier this month when he reportedly walked into a residence in the Rome area where a female was present and assaulted her. A warrant for Shelton's arrest was issued for burglary and fourth-degree assault.
Degase said in a Facebook post at the time of the incident Shelton has a history of this type of criminal conduct. He was arrested in November 2017, after he went into an occupied residence, locked himself in a bathroom and began going through the medicine cabinet. In the 2017 case, Shelton was sentenced to 12 years in the Missouri Department of Corrections, which was suspended upon completion of a long-term treatment program. However, Shelton was already out and on supervised probation.
Earlier this month, Degase says there was a report of an incident in Wright County where Shelton and another unknown male allegedly attempted to break into a house. The attempted break-in was deterred when the homeowners returned and armed themselves.
Wednesday evening, Degase received information Shelton was hiding at a residence in Ozark County.
Degase and officers, including K9 Amigo, surrounded the residence.
A male subject answered Sheriff Degase's knock and advised Shelton was in fact in the residence.
Shelton attempted to exit several doors on the rear of the building, but soon found he was surrounded. The Ava fugitive failed to come to the door and surrender, leading Degase and a deputy to enter the residence, where they located Shelton and took him into custody without incident. Degase says Shelton stated he was tired and worn out.
Sheriff Degase credits the citizens of Douglas, Ozark and Taney counties for the apprehension of Shelton. Without the phone calls reporting sightings, he says this arrest would not have happened.
Sheriff Degase thanks Taney County deputies and Deputy Carl Pride for chasing down sightings of Shelton in the Protem area Wednesday. He also extended his appreciation to the Ozark County deputies who assisted in taking Shelton into custody.
WebReadyTM Powered by WireReady® NSI