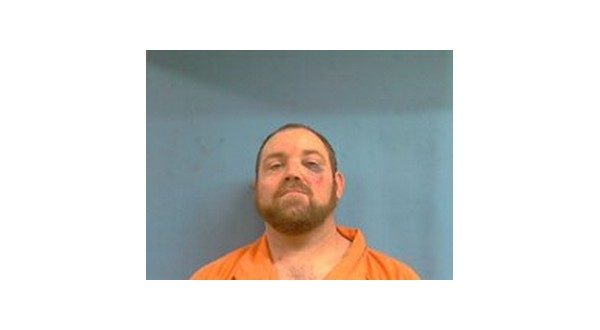 Photo: Jeremiah F. Knott
Just over six months after being released from prison, a Stone County man is back behind bars following a domestic altercation that led to a deputy being stuck in the knee with a knife blade and the suspect being tased twice.
According to the probable cause affidavit, 39-year-old Jeremiah F. Knott of Mountain View was released from the Arkansas Department of Correction (ADC) on March 6. He had been serving time on a 2018 conviction in Stone County Circuit Court involving the same family members that were part of his most recent arrest.
In the 2018 case, the online Prosecutor's Report indicates Knott was charged with 13 counts of various criminal offenses involving an assault on family and his subsequent flight from authorities. He was sentenced to five years in the ADC, to be followed by 10 years of supervised probation.
In the most recent incident on Sept. 19, a Stone County deputy responded to a domestic in progress along Iron Mountain Road in Mountain View between Knott, who was reportedly armed with a knife, and his mother.
Knott had allegedly attempted to put his 8-year-old daughter in his vehicle twice, but she had refused to leave with him.
When the deputy arrived on scene and spoke with Knott's mother, she advised "police were not needed and that they can leave because everything is fine."
As the deputy entered the residence, a second family member pointed to the hallway saying, "Get him, he's in there. Help. Help."
The deputy made contact with Knott described as "visibly agitated and on edge." He refused to comply with orders, and as he started to move towards the dining room, the deputy observed a knife blade sticking up from Knott's pants pocket.
Knott again reportedly refused to obey commands and made a step toward the deputy.
With the assistance of a second deputy arriving on the scene, Knott was arrested, but not without further resistance and being tased twice. In the first tasing, Knott pulled the leads, breaking them.
During his fight with deputies, his mother allegedly stood over the officers yelling, "Stop hurting my baby, stop hurting him."
In trying to grab Knott's right arm, the knife blade stuck one of the deputies in the knee.
Emergency medical personnel arrived and examined Knott, who refused further treatment. The injured deputy was transported to the Stone County Medical Center for further evaluation due to an elevated heart rate and difficulty breathing. He also had the suspect's blood inside his mouth.
Knott has been charged with
– Aggravated assault (two counts), Class D felony
– Battery – Class D felony
– Resisting arrest – Class A misdemeanor
– Interference with emergency communication (taking victim's cellphone) – Class A misdemeanor
Knott's bond was set at $25,000.
WebReadyTM Powered by WireReady® NSI