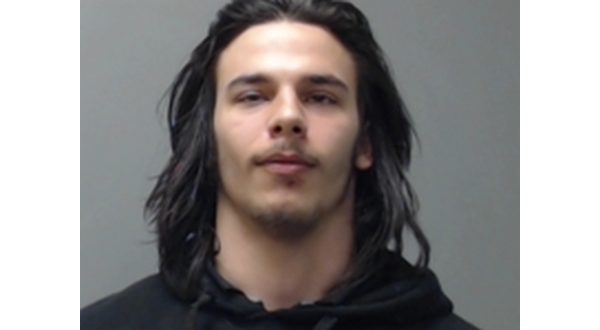 Photo: Casey Dillan Lawson
A 20-year-old rural Mountain Home man who is charged with assaulting his mother, leaving her with serious injuries, had his plea offer withdrawn by the state, after he could not stop laughing as the facts of his case were read.
According to court and other records, Casey Dillan Lawson has dealt with significant mental health issues for some time.
He appeared in Baxter County Circuit Court Thursday to change his plea to guilty. According to the agreement worked out by prosecutors and defense attorney Mark Cooper, Lawson was to receive a six-year prison sentence, with five suspended and one to serve.
As Circuit Judge Gordon Webb went over the facts in the case, Lawson began to laugh. At one point, Judge Webb asked the defendant if he was pleading guilty to hitting or striking his mother. Lawson continued to laugh. "That really sounds horrible," he said at one point. When he was told of the second-degree domestic battery charge filed against him he said he "didn't understand what that means."
Cooper told his client at one time during the lengthy process to "straighten up" but Lawson seemed lost in his own world.
Judge Webb asked Lawson if he could explain what he found so laughable and he said something that had been said in court, "just sounded funny" like a certain rapper's song lyrics.
When the state moved to withdraw the plea offer, Cooper asked the court not to grant the motion. "We have worked very hard on this agreement, to get to the point where we are, and I would hate to have it all set aside."
Judge Webb granted the motion, saying Lawson's behavior "could only be described as irrational, and I am not going to accept the plea at this time."
Lawson is set to reappear in circuit court Oct. 15.
Court records indicate Lawson has been committed to stays in mental treatment centers based on his behavior. He was described as suffering "acute psychosis."
According to court records, Lawson has told mental health professionals he "hears voices all the time," and the voices represented "the devil."
He has made a number of suicide attempts.
In June and July 2018, he was reported to have tried to kill himself three times in five weeks. It was alleged he had slashed his wrist, swallowed motor oil and ingested 40 Thorazine pills.
According to the manufacturer, Thorazine is used to treat certain mental and mood disorders and can reduce aggressive behavior and the desire to hurt oneself.
Lawson is reported to have once said God had told him to kill himself so he could go to heaven. He has said he is ready to go to "a place of peace."
Lawson was arrested in early January after a Baxter County Deputy interviewed his 56-year-old mother at Baxter Regional Medical Center (BRMC).
The mother reported she had been in the kitchen of her residence located along County road 1420 talking with her son. She said Lawson appeared to be having "some type of episode," and she was trying to calm him down.
The victim said she grabbed the young man's shirt at one point and that was the last thing she remembered.
Another son living at the residence told investigator he heard a "commotion" and when he looked in the kitchen, he saw his mother lying on the floor unconscious.
He said his brother fled the residence. Lawson was located, arrested and booked into the Baxter County Detention Center Jan. 4 and has been an inmate there for eight months and 21 days, as of Thursday.
According to the probable cause affidavit, the second son was able to wake his mother and transport her to BRMC.
After arriving at the hospital, it was determined the woman's injuries were serious. She was reported to have a "brain bleed" and broken jaw.
The victim was airlifted to a hospital in Springfield where she was placed in the intensive care unit.
Lawson's bond is set at $15,000
WebReadyTM Powered by WireReady® NSI