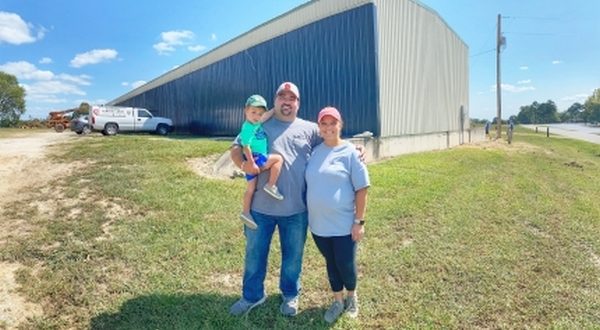 PHOTO: Brandon Tanksley, shown here with wife Whitney and their son, Camdon, 2, will serve as location pastor of Real Life Church, which plans to hold its first services Sunday in Gainesville in a converted airplane hangar at Gainesville Memorial Airport. Jessie Dreckman/Ozark County Times
Real Life Church (RLC) will host its first services in Gainesville Sunday morning at 9:30 and 11 a.m. in a former airplane hangar at the Gainesville Memorial Airport on Bulldog Drive across from Gainesville High School.
The Gainesville location is the second one for Real Life Church in Mountain Home, where its weekly contemporary services attract an average attendance of around 1,100 people, according to a news release announcing the opening. The church is affiliated with the General Baptist denomination, says Brandon Tanksley, location pastor of the Gainesville congregation.
Tanksley tells the Ozark County Times the Mountain Home church celebrated its ninth year on Sept. 11. The congregation first held services in 2011 in a school, then moved to a bus garage and later retrofitted a riding stable as its gathering place before building its current building three years ago at 1326 Rossi Road, off the U.S. Highway 62/412 Bypass. The Mountain Home church is led by lead pastor Vince Daniel.
Tanksley says the Gainesville church will have two contemporary services each Sunday featuring a full live worship band playing the music "people are hearing now on contemporary Christian radio." The service will unfold in a dimly lit auditorium featuring theatrical stage lighting, he says.
While adults are gathering in the auditorium of the retrofitted airplane hangar, children from birth through fifth grade will gather in the "kids area," where an age-appropriate curriculum and service will be shared.
Each of the two services will last about an hour.
The church is "very volunteer driven" and exists in a "very serving culture," Tanksley says. Those who have been working to convert the 160-foot-long hangar, which the church is buying from Robert Obert, are "generally half and half," Tanksley says, meaning half the volunteers are Ozark Countians who are part of the launch team, and the other half are staff members and volunteers from the Mountain Home church.
While focusing on the gospel, the church operates with four different kinds of value statements, Tanksley says:
"We're better together.
"We're never finished. We keep moving forward. Our mission stays the same, but our methods may change. We're always trying to reach one more person.
"We're generous. Churches talk about tithing and offerings. As a church, when we make our budget, right off the top we take that tithe, and it goes outside the church's walls. We give it away.
"We refuse to be good — because good stops you from being great. We strive for excellence in everything we do."
Tanksley says census reports showed that, as a whole, about 80% of Ozark Countians reported themselves as "unchurched" or as ones who had "fallen away from church at some time in their life." Real Life Church's biggest goal in Ozark County, he says, is to see that number decrease.
The opening was delayed a few weeks due to the increasing number of COVID-19 cases reported recently in Ozark County. At the RLC services, staff members and volunteers will be wearing masks, but masks are not required for those attending, Tanksley says.
WebReadyTM Powered by WireReady® NSI