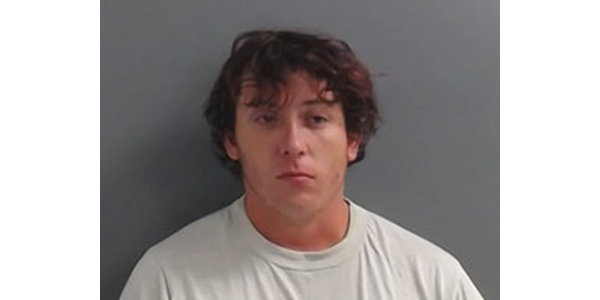 Photo: Matthew Dunn
A Baxter County man, 28-year-old Matthew Dunn of Cotter, is set for an appearance in Marion County Circuit Court Wednesday on a felony charge of aggravated assault on a corrections law enforcement officer.
According to the probable cause affidavit, the charge stems from an incident in late August following a traffic stop in Yellville.
A Marion County sheriff's deputy conducted a traffic stop of Dunn's vehicle due to the Cotter man having a suspended driver's license.
During the course of the stop, Dunn and his passenger, Jennifer Close, reportedly screamed obscenities at two officers, with the Cotter man reportedly becoming aggressive. Dunn's behavior allegedly escalated to the point he was told a K-9 would be released, and "he would be dog bit."
As Dunn was escorted to a patrol unit, he reportedly spat on one of the deputies, when his back was turned. When Dunn saw Close being arrested for disorderly conduct, he reportedly began spitting over the inside of the patrol unit, while banging his head extensively on the door and window. He then allegedly forced himself to regurgitate in the back seat of the patrol unit and proceeded to spread vomit and spit on the windows and the seat.
In addition to the felony charge, he faces misdemeanors of disorderly conduct, resisting arrest, driving on a suspended license and not having required minimum insurance coverage.
He remains in the Marion County Detention Center on a no bond hold.
Online court documents indicate Dunn also has an open case from early February when he was charged with the same felony offense of aggravated assault on a corrections law enforcement officer. He was also charged with misdemeanor counts of obstructing governmental operations and terroristic threatening.
According to the probable cause affidavit, the charges followed several memos from detention officers regarding Dunn's behavior in the Marion County jail. The memos included a report of Dunn allegedly refusing commands and trying to get all the inmates in his pod to not listen to officers. He reportedly told one officer he would have his job, and if he saw him outside the detention center, "you will get yours."
The decision was made to move Dunn to isolation. In the process, he reportedly became belligerent and argumentative, before spitting in the face of a jailer.
WebReadyTM Powered by WireReady® NSI