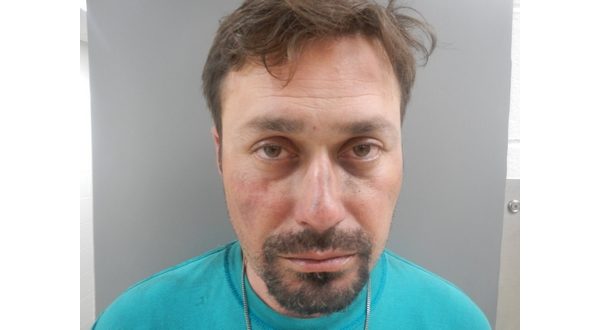 Photo: Blake Bisbee
An Arkansas County man, 39-year-old Blake Bisbee of Stuttgart, has been arrested in Izard County, after he allegedly broke into a couple's home and stole a number of items as they were sitting in their back yard.
According to the probable cause affidavit, deputies responded to a residence along Ruddells Road in Sylamore Oct. 3 where the homeowner had detained Bisbee.
The homeowner said he and his wife were relaxing next to their fire pit when they heard someone walking in the gravel on their property next to the fence line.
The man exited the yard and discovered Bisbee. He asked if he could help him, and Bisbee said he was hiking and lost his backpack.
He then asked if he could use the homeowner's cellphone. The homeowner asked his wife to retrieve her phone from inside their home. In doing so, she discovered someone had locked the back door and had to enter from the front. Inside the home, she was unable to locate her phone and returned to the driveway where her husband was speaking with Bisbee.
The homeowner dialed his wife's cellphone number and heard the device ringing in Bisbee's pocket. The Stuttgart man retrieved the phone, as the homeowner detained him and alerted law enforcement.
Security camera video footage shows Bisbee enter the home through the front door at approximately 7:23 p.m.. He then exits at approximately 7:54.
A number of items were phone on Bisbee's person and identified by the homeowners as their property.
The items included:
– bottle containing 9 cyclobenzaprine pills
– bottle containing 1 full and 4 1/2 alprazolam pills
– paring knife
– camping knife
– 4 pairs of men's undergarments
– phone pouch
– metal paper hole punch
– Leatherman tool
– 2 Sharpe markers
– 2 camping carabiners
– binoculars
– bottle of Polo cologne
– cellphone
The homeowners believe two $20 bills were also missing from the wife's purse.
Bisbee has been charged with a felony count of residential burglary, as well as a misdemeanor of theft. His bond was set at $20,000.
WebReadyTM Powered by WireReady® NSI