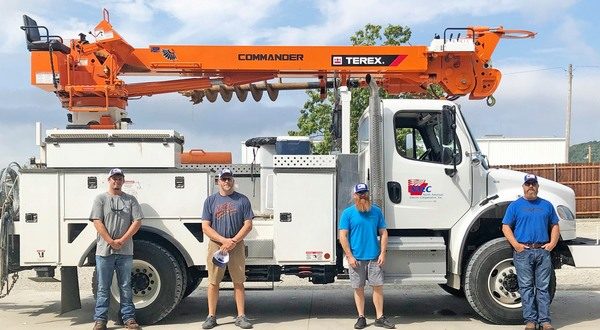 Photo: North Arkansas Electric Cooperative linemen (from left) Aaron Knight, Jeremy Perdue, Shawn Hardin and Jay Jones, all of Mountain Home.
Four line workers from North Arkansas Electric Cooperative (NAEC) are home following two weeks helping rebuild the electrical system after the first of two hurricanes struck southwest Louisiana.
More than 1,200 line workers converged on Beauregard Electric Cooperative's territory after Hurricane Laura cut service to all 43,000 of its members.
Line Foreman Shawn Hardin has been with NAEC 24 years and has volunteered for similar assignments following ice storms and tornadoes. But the trip to Louisiana was Hardin's first in response to a hurricane.
He says it was a new experience living in a camp instead of a hotel during one of these mutual aid responses.

Listen:


Hardin says as they left the camp traveling south, they encountered the worst of the damage.

Listen: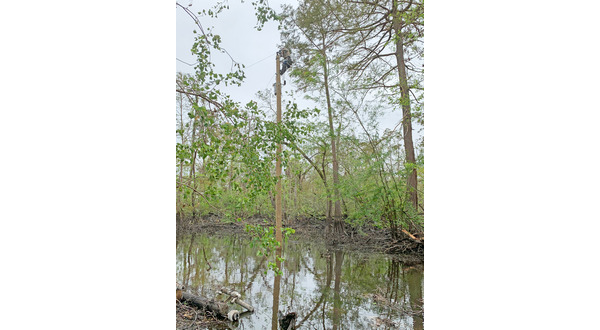 Photo: Shawn Hardin tying in wire to a new pole in Louisiana. Photo: Courtesy Jay Jones/NAEC
Fellow Line Foreman Jay Jones has been with NAEC 15 years and responded to mutual aid after Hurricane Irma in 2017. He says there are similarities between this recent storm and one residents in North Central Arkansas will remember.

Listen:


The "little tougher" terrain Jones described made for what Hardin says was "one good swamp crossing."

Listen:


In that swamp crossing Hardin says he saw the largest water snake he's ever seen, with a head the size of a fist. He says their guide said numerous 10 to 11-foot alligators have been pulled from that swamp. Hardin says they were fortunate not to run into any of them. He says you sure didn't want to tip the boat over.
Knowing these conditions, and as they watched the weather reports late last week to see if Hurricane Delta would impact the same area, Hardin was asked would he return if needed.

Listen:


Hardin and Jones also report they had an opportunity to try some local cuisine, with the crawfish pie and boudin getting rave reviews.
WebReadyTM Powered by WireReady® NSI