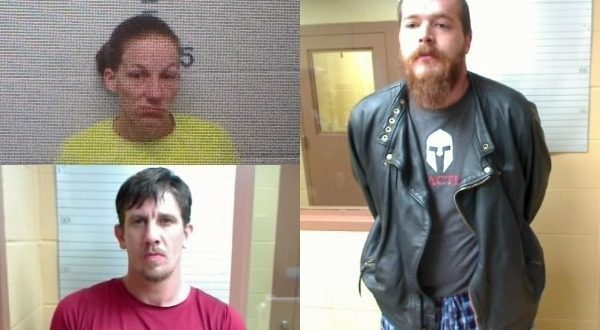 Photos: Joey Marcak (right), Kyla Croney (top left) and Levi Gunter
A Viola woman has been sentenced to 12 years in the Missouri Department of Corrections for her role in a double homicide earlier this year in West Plains.
Online court documents indicate 34-year-old Kyla R. Croney was sentenced last week after pleading guilty to two amended charges of second-degree murder. She also pled guilty to one count of attempted possession of a controlled substance.
Croney was originally charged with two counts of first-degree murder, three counts of armed criminal action and one count of first-degree attempted robbery.
Croney and two co-defendants, 37-year-old Levi Daniel Gunter and 31-year-old Joey Marcak, both of West Plains, were arrested May 7, two days after the bodies of 30-year-old Richard L. Kuntz of West Plains and 28-year-old Frankie L. Ziegler of Mountain View, Missouri, were located in a vehicle, dead of apparent gunshot wounds.
Later that month, Howell County Prosecuting Attorney Michael Hutchings filed a notice of intent to seek the death penalty against Marcak.
West Plains Police Chief Stephen Monticelli said in a statement at the time Croney implicated herself and Gunter in the crime after being arrested.
Court documents submitted to prosecutors show Gunter allegedly named a third suspect he said fired at the victims with a shotgun, after they were lured to the scene of the crime under the pretense of a drug deal.
Prior to the incident, the third suspect, later identified as Marcak had reportedly told Croney and Gunter the victims had stolen a car and money from him.
Gunter allegedly told police the third suspect got out of the vehicle when they got to the location, hid in the bushes with a shotgun until the victims arrived, then fired four or five shots into the vehicle.
Croney was the first of the three defendants to be sentenced.
WebReadyTM Powered by WireReady® NSI