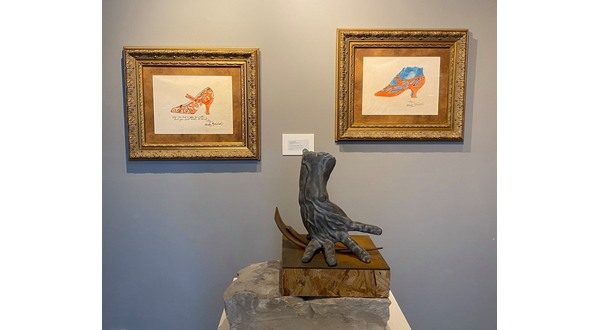 In 1955, I. Miller, a now-defunct shoe company in New York City, commissioned pop artist Andy Warhol to complete a series of drawings of shoes for their advertisements in the Sunday edition of the New York Times.
At the time, Warhol's mother was signing all of his works for him and inscribed each of these drawings with a funny saying.
The Calico Rock Museum and Visitor Center has acquired two of these drawings for a temporary exhibition.
The museum is open Tuesday through Saturday 9 to 4.
On its website, Phaidon Press, a global publisher, says Warhol's career began in June 1949 with shoes. "On his second day in New York City, Warhol earned a commission from Tina Fredericks, artistic director of Glamour magazine, who admired his portfolio and asked what he could draw," writes the curator and art historian Joseph D Ketner II in the Andy Warhol Phaidon Focus book.
"Warhol boasted, 'I can draw anything.' Friedricks gave Warhol his first commission to illustrate women's shoes."
Friedricks' commissions famously launched the 20-year-old artist's career, as a fashion illustrator with a talent for footwear. Ketner writes Warhol "became a 'success' over the next decade as the leading illustrator of women's clothing and shoes, earning him design awards, countless contracts and a handsome income."
The artist served as chief graphic designer for the I. Miller Shoe Company in 1955, and in 1956, he combined his obsessions with shoes and celebrity in his Golden Slipper gallery exhibition, personifying famous people through famous footwear.
WebReadyTM Powered by WireReady® NSI