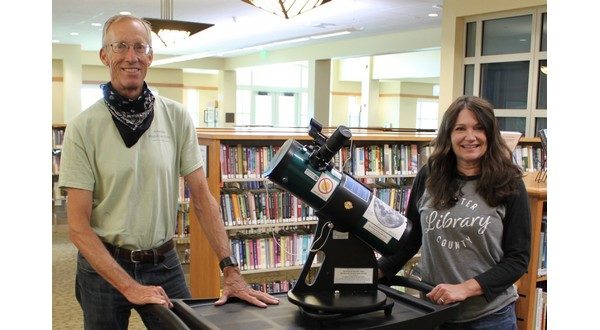 Photo: Arkansas master naturalist and Donald W. Reynolds Library volunteer Jeffrey Hoeper and Library Director Kim Crow-Sheaner
It's been nearly 16 months since the Buffalo National River was designated as a dark sky park by the International Dark Sky Association to promote the protection of its nighttime environment, and the Arkansas Natural Sky Association (ANSA) is joining an effort to restore and preserve the night sky for the public to enjoy and learn about. Through grants, the ANSA's library telescope-lending program has donated 17 telescopes to libraries in the river's corridor, including the Donald W. Reynolds Library.
Program Coordinator Allan Staib says the grants are from the Arkansas Space Grant Consortium.

Listen:


In addition to the library in Mountain Home, telescopes were presented to the Marion County Library in Yellville, the Searcy County Library in Marshall, the Boone County Library in Harrison and the Newton County Library in Jasper. More telescopes are expected to be going locally to Fulton and Izard counties and further south to the Garland County Library in Hot Springs.
Staib says in addition to the telescopes, each library is required to have an amateur astronomer to fill the role of service volunteer.

Listen:


Donald W. Reynolds Library Director Kim Crow-Sheaner says the telescopes provide the community an opportunity to explore the night sky, and so far, they have been popular among the library's patrons.

Listen:


Those interested in checking out a telescope should contact their local libraries. The Donald W. Reynolds Library can be reached at 870-580-0987.
WebReadyTM Powered by WireReady® NSI