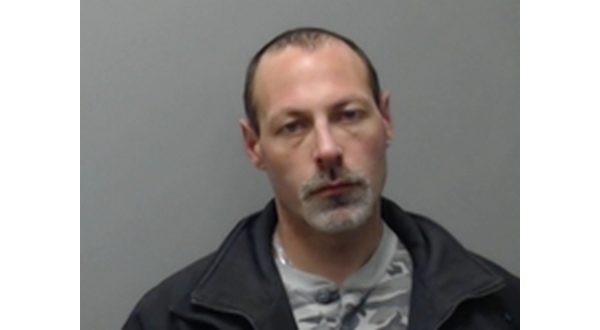 Photo: Christopher Croteau
A Mountain Home man's reaction to seeing police vehicles in his rearview mirror has often been to hit the accelerator.
Thirty-nine-year-old Christopher Croteau has been involved in high-speed pursuits this year and in 2016 and 2017. In mid-February, Croteau was arrested and charged with traffic violations, as well as fleeing on foot and possession of methamphetamine and drug paraphernalia.
The February pursuit was somewhat tamer that others in Croteau's history.
The latest chase was set off when a Mountain Home police officer saw a southbound vehicle being driven by Croteau exceeding the posted speed limit.
After Croteau noticed he was about to be stopped, he was reported to have run a stop sign at McClure and Glenbriar.
The officer estimated Croteau "blew through" the intersection at about 40 miles-per-hour.
The chase continued until Croteau's vehicle pulled into a driveway.
As has been his pattern, Croteau bolted from the vehicle and ran to the back of the house.
The officer recognized Croteau from earlier contacts and yelled for him to stop. When the officer made it to the back yard, he reported Croteau was standing still with his hands up.
Croteau told the officer he had thrown something away in the yard. A blue container was located holding a number of needles. The officer was also exposed to what Croteau described as "liquid meth."
The officer was treated at Baxter Regional Medical Center for the methamphetamine exposure.
The pattern in the pursuits in which Croteau has been involved is that he continues to flee, even after he has ditched his vehicle.
In late February 2016, Croteau was the subject of a high-speed chase that began in Mountain Home, went through Salesville to Norfork and turned on State Highway 341 toward Big Flat.
A Baxter County deputy sheriff was able to deploy "stop sticks" causing the driver's side front tire on the van to blow out.
Croteau and his female passenger bailed out of the van and fled into the woods. The female was captured, after a short pursuit. Croteau got away but was arrested later.
A Baxter County deputy once had to utilize his patrol car in a PIT maneuver to bring an end to one of Croteau's high-speed escape attempts.
The PIT maneuver – or Pursuit Intervention Technique – calls for a pursuing car to strike the rear of the fleeing vehicle causing it to abruptly turn sideways and the driver to lose control.
As with other chases, Croteau was not finished when the vehicular portion of the chase could not be continued.
He was reported to have fled on foot for a short distance, before being captured.
Speeds in these chases have been recorded in excess of 100 miles-per-hour.
Officers from a number of agencies have been involved in pursuing Croteau, and the Baxter County Sheriff's Office helicopter has also been used.
Croteau was to be arraigned on his newest charges Aug. 13 but failed to show for court, and a failure to appear warrant was issued.
He was arrested Sept. 29 and appeared in Baxter County Circuit Court Thursday.
During his appearance Thursday, Croteau entered a not guilty plea to the new charges filed against him stemming from the February pursuit and his failure to appear in court last month.
Croteau was ordered to reappear in circuit court Nov. 12.
WebReadyTM Powered by WireReady® NSI