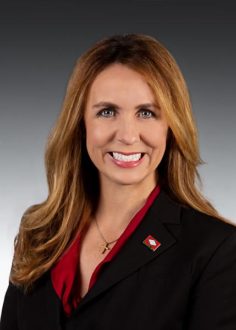 Arkansas State Senator Missy Irvin of Mountain View announced Wednesday she had tested positive for the coronavirus, the fourth lawmaker to do so in the latest outbreak among legislators that has prompted suspension of state budget hearings this week.
Irvin and state Rep. Joe Cloud confirmed that they contracted the virus, the fourth and fifth lawmakers to do so this week.
"I am at home recovering," Irvin tweeted. "Praying for my colleagues and everyone who is suffering with this virus."
Cloud, who said he developed symptoms on Saturday, noted that he had been at budget hearings at the Capitol last week.
"There's no way to know where exactly I contracted it, but obviously there was some spread," Cloud added.
Legislative leaders announced Tuesday that three lawmakers had tested positive and Gov. Asa Hutchinson said he was limiting his public appearances after learning he had been exposed to someone with the virus. Hutchinson added that he had tested negative twice since the exposure.
Three senators and six House members have now tested positive for the virus since the pandemic began in March.
Arkansas ranks 13th in the country for new cases per capita, according to figures compiled by Johns Hopkins University researchers.
The number of probable and confirmed cases in Arkansas rose by 1,155 to 101,596 on Wednesday. The state also reported 23 more COVID-19 deaths, bringing its total fatalities to 1,751.
A day after the state hit a new high for hospitalizations, the number of people hospitalized due to COVID-19 dropped by one to 636.
WebReadyTM Powered by WireReady® NSI