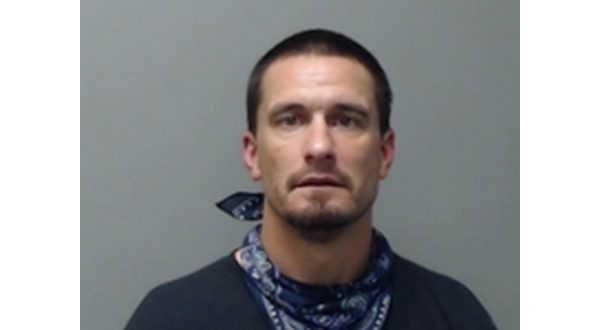 Photo: Christopher Tabler
A Yellville man who fought with a Mountain Home police officer in an attempt to avoid being arrested appeared in Baxter County Circuit Court Thursday.
Thirty-eight-year-old Christopher Tabler requested he be provided with a plea offer in his case. Tabler is not represented by an attorney and had said at one point he wanted to represent himself.
He was ordered to reappear in circuit court Nov. 5.
Tabler's arrest came after a Mountain Home police officer responded to an address along Kathleen Street on Sept. 7. He went there to check on a complaint that Tabler was violating an active order of protection by being on the property.
When the officer made contact with Tabler, he said he was there to check on his wife and children.
He then attempted to leave, but the officer said there was an active felony warrant out for his arrest and told him to place his hands behind his back.
Tabler was reported to have pulled away from the officer and started to walk to his vehicle. He was warned several times to comply or a stun gun would be used to bring him under control.
Tabler continued to resist and tried entering his vehicle. The officer deployed the Taser. Tabler was still able to get into his car and attempt to drive away.
As the officer continued his efforts to remove Tabler from the vehicle, the Yellville man was reported to have been kicking him.
The Taser was used again, when Tabler put the car into drive.
The officer was eventually able to remove Tabler from the vehicle and place him in custody.
Tabler is reported to have said he had a magnetic box under his dash containing methamphetamine and a glass pipe used for the ingestion of methamphetamine.
At the time of the incident, Tabler was listed as a fugitive by probation and parole.
A Mountain Home woman had taken out an order of protection to keep Tabler away from her.
The first was filed last year, dropped and then refiled in late June.
The woman alleges Tabler was violent with her on June 24. She said he came to her house to drop off their small son, and she "could tell he was in a mood to argue about our divorce."
She said she did not want to argue in front of the child.
Tabler is reported to have pushed her into the bathroom and shut the door, "in an attempt to get me to talk to him," she wrote.
She reported she was able to get out of the bathroom and went to the kitchen to get to her cellphone.
She said Tabler unsuccessfully attempted to stop her from make a call. After that, the victim said he began punching holes in the walls of the residence.
She said when he saw she had been successful in making the call to 911, he fled the residence.
She said Tabler initially took their small son with him, but put him down, before leaving after she begged him not to take the boy.
A protective order was issued based on the second petition. It is effective until August 2021.
Criminal cases have been opened against Tabler in 2000, 2001, 2008, 2009, 2011 and 2012. A majority of the charges against him have been drug-related.
Through the years, Tabler has had a significant problem abiding by the terms and conditions of probation handed down in his cases.
At one point, according to court records, he tested positive for drugs eight times during a seven-month period.
The drugs included hydrocodone, oxycodone, amphetamine, and marijuana.
WebReadyTM Powered by WireReady® NSI