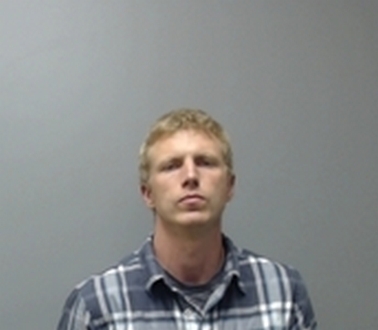 Photo: William Colby Black
A Baxter County man, 33-year-old William Colby Black of Mountain Home, has been arrested after telling law enforcement he and his wife were chased by unknown people in an unknown car while being shot at.
Baxter County Sheriff John Montgomery says deputies were notified Tuesday evening about 11:40 of a male subject was being treated at Baxter Regional Medical Center for a possible gunshot wound. Officers from the Mountain Home Police Department and Baxter County Sheriff's Office responded.
After the initial contact by officers, it was determined neither the male subject, identified as Black, nor his wife were injured, but both appeared to be on some sort of stimulant or hallucinogen.
Black told investigators he and his wife had left Bentonville when pursued. Black's statements as to where this alleged incident took place kept changing.
Arkansas State Police has joined the two local law enforcement agencies in investigating Black's claims.
A search of the couple's vehicle revealed a bullet hole in the windshield and damage to weather stripping of the car door believed to have been caused by a bullet. Sheriff Montgomery says both the hole and the damage to the door appeared to have been caused from the gun inside the vehicle. No other damage was located on the vehicle.
Multiple loose live 45 caliber rounds were found throughout the vehicle, along with two empty shell casings and an empty gun magazine. A 45 caliber handgun was also found in the vehicle's console. Two cellophane sleeves were also found containing various pills and a white substance believed to be methamphetamine. Black claimed the drugs and gun were his.
Black is charged with
– Possession of a controlled substance, methamphetamine, Class D felony
– Possession of a controlled substance, Schedule II (two counts), Class D felony
– Possession of a controlled substance, Schedule III, Class A misdemeanor
– Simultaneous possession of drugs and firearms, Class Y felony
Black was released after posting a $15,000 bond pending his appearance in Baxter County Circuit Court later this month.
The investigation is ongoing.
WebReadyTM Powered by WireReady® NSI