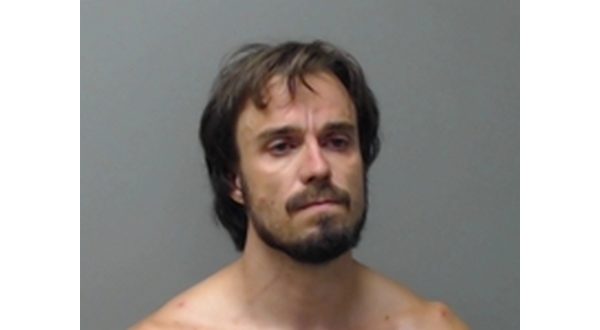 Photo: Robert Dillon Willett
A Mountain Home man who has a criminal record stretching back 16 years was released from prison recently and quickly got in trouble again.
Thirty-seven-year-old Robert Dillon Willett appeared in Baxter County Circuit Court Thursday and entered a guilty plea to the newest charges against him. He was sentenced to six years in prison with four suspended and two to serve.
He will serve his time in one of the Community Correction Centers in the state.
Willett was arrested in the early morning hours of June 12 when Baxter County sheriff's deputies responded to a possible fentanyl overdose at a resident along Old Arkana Road.
An ambulance from Baxter Regional Medical Center (BRMC) arrived in advance of the deputies, and the EMTs had already administered Narcan to the 44-year-old woman suspected of having overdosed.
She was taken to BRMC for further treatment.
Trouble for Willett began when the deputies saw a 12-guage shotgun in the residence. Willett, who is a convicted felon, cannot be in contact with weapons. He said he borrowed the shotgun to shoot skunks.
During a search of the residence, deputies also found items of drug paraphernalia, including used syringes and a glass smoking pipe used to ingest methamphetamine.
When deputies questioned Willett about the fentanyl, he said he had thrown it out in the woods before the lawmen arrived.
Willett was sentenced to five years in prison in March last year. He had picked up felony drug charges stemming from a Feb. 16 traffic stop. According to the probable cause affidavit, a Mountain Home police officer pulled Willett over shortly after midnight.
The officer initiated the stop after seeing the pickup truck Willett was driving traveling in the opposing lane of traffic.
The officer reported he was aware Willett was on felony probation with an active search waiver on file. The waiver means Willett has agreed to warrantless searches of his person, residence and vehicle at any time as a condition of probation.
Methamphetamine and paraphernalia used to ingest the drug were found in Willett's vehicle.
After the traffic stop Feb. 16, Willett was arrested yet again by Mountain Home police in the early morning hours of Feb. 22 and ticketed for driving while intoxicated, as well as several misdemeanor drug charges and other traffic infractions.
In the past, the courts have handed down one suspended sentence after another in criminal cases involving Willett dating back to 2002, when the first case shows up on electronic court records.
Willett was a teenager at the time.
Willett was given a six-year prison sentence on a number of drug related charges in 2011. Records show he entered prison Aug. 26, 2011 and was released about nine months later.
The charges which sent Willett to prison in 2011 stemmed from his involvement – along with several co-defendants – in manufacturing methamphetamine at a residence along Apple Blossom Circle.
He was charged with manufacturing a controlled substance, being in possession of a controlled substance and drug paraphernalia.
A company specializing in cleaning up methamphetamine manufacturing operations was brought in to deal with the situation.
Records at the Baxter County Detention Center show Willett being booked in on several occasions on apparent parole violations, meaning that while on parole he had violated the terms and conditions of his release.
In addition, he has been sent to one of the Community Correction Centers in the state where people are normally sent to undergo treatment for addictions.
Prior to his arrest this month, Willett had criminal charges filed against him in May and December 2002, July 2006, September and December 2010, May 2013, October 2014, February 2015, September 2017 and February 2019.
He spent only months of his five-year prison sentence stemming from his 2019 conviction. According to prison records, he was released under provisions of the Emergency Powers Act — legislation passed to help ease overcrowding in the state prison system.
Drug-related charges make up the vast majority of the cases set up against Willett through the years.
WebReadyTM Powered by WireReady® NSI