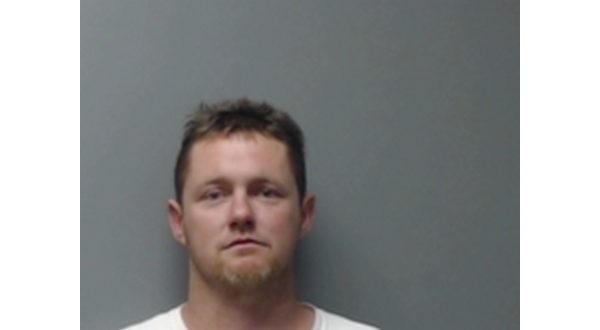 Photo: John Downing
A former Mountain Home roofing contractor finally appeared in Baxter County Circuit Court Thursday on charges in three criminal cases in which he is accused of taking money for jobs and never doing the work.
A failure-to-appear warrant was issued for 31-year-old John Downing Oct. 15 in all three of his cases, and he was booked into the Baxter County jail just before midnight Wednesday.
Three days ago, a Little Rock attorney, George Morledge IV, entered his appearance on behalf of Downing. A deputy public defender has been handling the case.
Downing has not appeared during several sessions of circuit court due to allegedly taking a series of tests to determine if he was positive for COVID-19. According to court records, Downing has already had at least two such tests — one on Aug. 26 and another just 13 days later. It was announced during the Oct. 22 court session he did not appear because he had taken a third test.
There is no "excuse slip" for the latest test in his case records as there were for the first two.
The second test was done just 48 hours before he was due to appear for his sentencing hearing then set for Sept. 10.
Prosecuting Attorney David Ethredge told the court during a recent session that Downing was "playing games, and this is just one more chance for him to poke us in the eye."
Ethredge told the court, "You can walk into a clinic, pay for a test and you get a test. It doesn't mean you have anything but a credit card."
Circuit Judge Gordon Webb agreed and said it certainly appeared Downing was "milking" the COVID-19 test excuse.
Downing's new attorney told the court his client had just paid $5,000 toward about $8,700 in restitution owed to victims. He asked the court to allow his client to get out of jail "so it will be easier for him to make the money to pay this off and get it behind him."
Morledge said Downing "knows this situation is of his own making, but he is trying to make it right."
The state objected to letting Downing go free until a sentencing hearing now set for Nov. 12. Ethredge said because of a number of delays, it had been about eight months since Downing entered his guilty plea.
The guilty plea to the charges was entered Feb. 20. The initial date for sentencing was set for March 19.
Formal sentencing was initially delayed to allow Downing time to gather funds to be used to pay as much victim restitution as possible, according to his defense lawyer.
The case was then continued in March, May, twice in August, September and this month.
If the original schedule had been met, Downing would have had less than 30 days to come up with as much restitution as he could.
Ethredge said Downing had used "excuse after excuse" to prolong the case and the state is out of patience." The prosecutor said he wanted Downing sitting in jail until the mid-November sentencing hearing.
Judge Webb said he would not set a bond for Downing "because I simply don't feel he can be depended on." The judge said, "We have certainly had issues getting Mr. Downing before the court." Ethredge said, "We have had to issue arrest warrants to get Mr. Downing to appear. He has shown he can't be trusted."
According to the probable cause affidavit in the initial case filed against Downing, it is alleged that in late May 2018 he entered into a contract with a homeowner to put a new roof on the man's residence. The victim paid Downing $2,250 in advance for the job.
After the agreement was reached, Downing was reported not to have returned to the victim's house to install the new roof.
The victim told investigators he made several calls to Downing and heard a number of excuses as to why the work had not started. Downing told the victim at various times work on his house would start the next day, or the victim's house was the next one in line to be done.
After several contacts, Downing stopped returning the victim's calls. The victim told investigators no materials had been delivered, and no work done.
In early August 2018, occupants of a residence in Mountain Home told authorities they had contracted with Downing and his company, Highbridge Roofing and Construction, to do repairs on their roof for $1,700.
The victims told investigators they went to their bank, obtained a cashier's check for $1,700 and gave it to Downing, who was alleged to have cashed it the same day.
Again, the victims were told a number of stories as to why the work had not started. Downing said rainy weather had put him behind. On another date, he said the work would be completed in two weeks.
Finally, Downing called the residents saying he did not have time to take on their job and would refund the $1,700 they had paid him. He did not keep that pledge, according to investigators.
Further attempts to contact Downing were unsuccessful.
In late October 2018, a homeowner reported he had contracted with Downing for roofing work. Downing told the victim a down payment of $4,700 would be required. The victim paid Downing, but no work was ever done.
The homeowner required Downing's company to have a current contractor's license, general liability insurance and worker's compensation coverage during the life of the contract.
The victim found Downing's contracting license had expired, and insurance coverage had been canceled due to non-payment. He contacted Downing and said he wanted his money back.
While Downing promised to return the money to the victim in a few days, he did not make good on that promise either.
As additional cases began to pile up, Downing was ordered by the court not to solicit new business. He was permitted to do warranty work, as long as it did not require customers to put up any money to have repairs made.
Downing and his company filed a $5 million slander suit in late June 2018 against a Baxter County man for allegedly damaging the reputation of his business. Downing had reportedly done work on a pole barn for the victim but did not complete the job, forcing the customer to have another contractor complete the project.
In the slander suit, Downing said the former customer was spreading allegedly false statements about unscrupulous business practices.
Downing's suit contended the false statements would cost his company millions of dollars in sales during the next 10 years.
A hearing was held in early January last year. The defendant and his attorney attended. Downing was a no-show. His suit was dismissed for lack of prosecution, and a judgment was entered in favor of the customer for $17,900 to cover damages and attorney fees.
When he was 18 years old, Downing pled guilty to breaking into two homes and taking a number of items, such as power tools, a television, a DVD player and a laptop computer.
He was alleged to have said he took the items and pawned them at three different area shops because he needed money.
On the residential burglary and theft of property charges, Downing was sentenced to 10 years of probation but was discharged after 84 month, according to documents filed in the case.
WebReadyTM Powered by WireReady® NSI