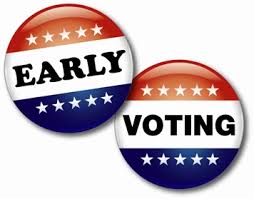 Over half of all registered voters in Baxter County participated in early voting, smashing previous totals according to Baxter County and Circuit Clerk Canda Reese.A total of 15,539 early votes were cast in Baxter County, representing 51.9% of the county's 29,445 registered voters. In 2016, 10,640 early votes were cast, or 36.9%.The request for absentee ballots finished at 2,591, with 2,415 of those already returned, Reese reports. Most of the outstanding absentee ballots are by voters who changed their minds and decided to vote in person with a provisional ballot. Reese says at the early voting location at the Methodist Church in Mountain Home, at least 50 provisional ballots had been cast.
In the 2016 general election, just 687 absentee ballots were requested.
Over 50% of voters have chosen to vote early in Marion County, via in-person or absentee ballot.
Marion County and Circuit Clerk Dawn Moffet says 4,565 early votes have been cast at the early voting locations at the courthouse, Bull Shoals and Lazy Acres. In 2016, 3,660 early votes were cast. Moffet adds 984 applications for absentee ballots were presented and 840 of those ballots have already been returned. Just 301 voters cast an absentee ballot in 2016.
Fulton County has seen 3,231 early votes cast, or 42.9%. In 2016, 2,342 (34.5%) cast early votes, according to County and Circuit Clerk Vickie Bishop.
In Searcy County, 2,623 chose to vote early, which is roughly 50% of the registered voters.
Stone County saw 3,668 early votes and 494 absentee ballot requests, out of 8,772 registered voters in the county, for 47.4%. In 2016, Stone County had 5,702 votes cast, with 3,245 early votes and 139 absentees.
In Boone County, 11,497 of the 24,883 registered voters cast ballots in early voting. An additional 1,451 absentee ballots have been sent out by the Boone County Clerk's Office. In 2016, 10,375 of Boone County's total of 16,147 ballots were cast in early voting.
WebReadyTM Powered by WireReady® NSI