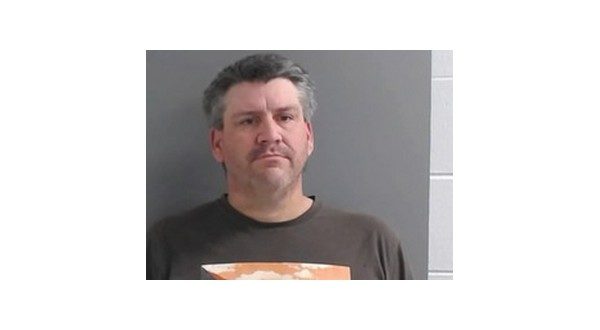 Photo: Donald J. Merrill
A Marion County man, 44-year-old Donald J. Merrill of Flippin, is being held on multiple felony sex-related charges.
According to the probable cause affidavit, Merrill's charges include two counts of rape, a Class Y felony, and three counts of second-degree sexual assault. Class Y felonies are the most serious classification of crime in Arkansas not punishable by death.
Merrill's arrest follows a joint investigation between the Flippin Police Department and Arkansas State Police involving three alleged victims.
The first case was investigated after receiving reports from the Sumter County Sheriff's Office in Wildwood, Florida. The then 10-year-old victim alleges the incidents involving Merrill occurred in the family home in Flippin. She further alleges the abuse first started when she was approximately 5 years old when the family was living at an unknown location in Louisiana.
Reports from Louisiana indicate a second alleged victim, a 28-year-old female, reports Merrill sexually assaulted her approximately 20 years ago when she was 7 to 9 years old when the Flippin man was married to her mother. She alleges the abuse continued over a two-year period. The victim told law enforcement she never reported the abuse because Merrill threatened to kill her and her family if she ever told anyone. The alleged abuse occurred in the family home in Pyatt.
Reports from the Arkansas State Police Crime Against Children Division note a third victim, a 13-year-old female, alleges Merrill began sexually assaulting her when she was approximately 7 years old. The alleged abuse began in Louisiana and continued in Flippin.
Flippin Police Department Chief Henry Campfield determined Merrill was living at a residence along West George Stice Drive in Summit with his girlfriend. Chief Campfield attempted to make contact at Merrill's residence for several days without success.
He then learned Merrill"s girlfriend worked at a Yellville business and made contact with her.
The woman confirmed she had been living at the Summit residence with Merrill. But she said he had fled the area when he was served with civil paperwork regarding the custody of her minor children.
About two weeks later, while off duty, another member of the Flippin Police Department saw Merrill and his girlfriend at a business in Flippin. He stepped outside to contact Chief Campfield to see if he was still searching for Merrill.
When he reentered the business, Merrill's girlfriend advised the suspect had fled out the back door. Officers searched the area for several hours but were not able to make contact with Merrill.
The following day, law enforcement attempted to make contact with Merrill at his residence. His girlfriend arrived, said she did not know where Merrill was and denied he was in the residence. When the officer asked to check the residence, the woman denied him access. The officer advised he could hear movement coming from inside the residence, but no one would come to the door.
The Marion County jail log indidates Merrill was booked into the facility Tuesday and is being held on a $75,000 bond. The online jail log also indicates a hold for Baxter County.
WebReadyTM Powered by WireReady® NSI