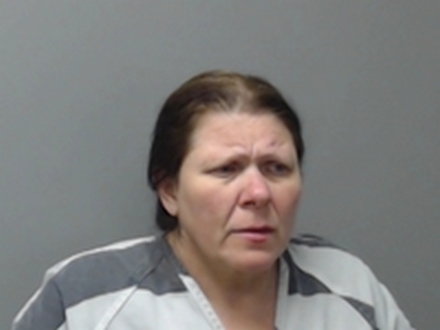 Photo: Vanessa Sheree Berquist
A Mountain Home woman who attempted to eat evidence against her while checking into the Baxter County Detention Center will now be headed to prison.
Forty-six-year-old Vanessa Sheree Berquist entered a guilty plea to drug-related charges during a session of Baxter County Circuit Court Oct. 29.
She was sentenced to three years in prison.
Berquist was arrested May 5, after an Arkansas State Police trooper stopped a pickup truck, in which she was a passenger, for having expired license plates.
The truck pulled into the parking lot of a fast food restaurant at the junction of U.S. Highway 62/412 and the Sheid-Hopper Bypass.
The trooper made contact with the male driver and Berquist.
After getting permission from Berquist, the trooper searched her purse and located a small plastic bag containing a green leafy substance and several burnt marijuana cigarettes.
Berquist was arrested. The male driver was released, after a citation was written for the expired license.
Berquist was taken to the county jail and warned if she had anything illegal with her when she entered the facility, she would be charged with a felony.
She first said she had nothing illegal but quickly changed her mind and confessed to having methamphetamine and marijuana inside her bra.
Berquist was placed on a bench in the booking area to wait for a female jailer to retrieve the contraband.
Berquist, however, had another plan. She was reported to have retrieved the drugs and attempted to eat them. A jailer was able to take the illegal items away from Berquist, before they were destroyed.
When a female jailer took Berquist into a restroom, she found another bag of marijuana in her bra.
While going through the plea taking process, Circuit Judge Gordon Webb was reciting the facts behind the charges against Berquist.
He came to the tampering with evidence charge and was searching for the correct information in the probable cause affidavit to describe what Berquist had done. Berquist cut to the chase, however. "I tried to eat it, you honor, that's what happened," she said.
When asked if she had anything to say before sentencing, Berquist replied simply, "I apologize for my actions."
Berquist requested to be allowed to stay out of jail for 24 hours to get her affairs in order before checking in to await transportation to prison.
Judge Webb said no. He told Berquist, "I have been burned too many times allowing those type arrangements. People often do not report to the jail when ordered, and I simply do not approve them any longer."
WebReadyTM Powered by WireReady® NSI