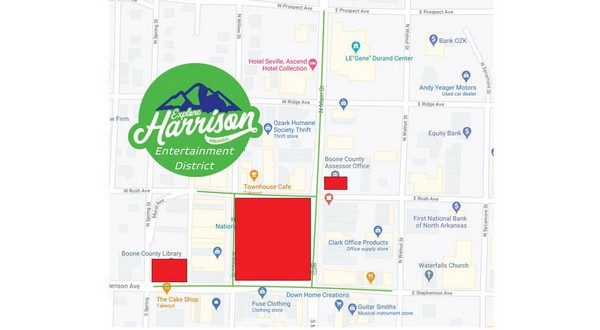 Image: Explore Harrison developed a map to show government offices and public places that would not be included in the proposed entertainment district, which would have allowed alcohol to be consumed while shopping.
A proposal to establish an entertainment district in downtown Harrison failed to advance beyond a city council committee late last week.
Hometown Daily News reports after a lengthy discussion of the community environment, services and welfare committee Thursday night, the initiative failed to advance to the full council.
Under the proposal, alcoholic beverages by the drink sales would have been allowed within the district, with the option to take them around the designated area to other participating businesses.
Matt Bell of the Harrison Convention and Visitors Bureau had spoken to several businesses in favor of the proposal, but several other citizens spoke in opposition at the meeting, citing the potential for increased alcohol-related crimes. Springdale was cited as an example of an area where crime went up after a similar proposal was approved.
The six-person committee, with member Wayne Cone absent, split on the vote, with members Mary Jean Creager and Linda DeWald voting in favor, while Chris Head and Heath Kirkpatrick voted against it. Committee Chair Joel Williams broke the tie and voted against sending the proposal to city council.
The City of Mountain Home Downtown Entertainment District — the first of its kind in the state — was officially opened to the public on July 24, 2019.
Between the hours of 4:30 p.m. and midnight daily, patrons of the district may leave a restaurant or bar with a single commercially-branded paper or plastic cup of beer, wine or a mixed drink to be consumed in the boundaries of the district.
Mountain Home's entertainment district is centered on its downtown area and runs from Hickory Street east to South Church Street and from Fifth Street south to Eighth Street. The district also includes part of South Main Street.
A number of entertainment districts have been approved since Mountain Home's.
The Arkansas General Assembly approved legislation in 2019 permitting the creation of such entertainment districts across the state. Act 812 of 2019, sponsored by Sen. Trent Garner of El Dorado, allows municipalities to authorize creation of entertainment districts within commercially zoned areas that highlight dining, entertainment and hospitality options on a permanent or temporary basis.
WebReadyTM Powered by WireReady® NSI