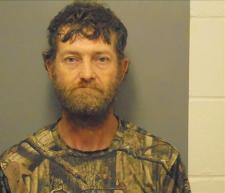 Photo: Michael Edward Gilbreath
Felony charges of aggravated assault, domestic battery and terroristic threatening have been filed in Izard County against a 46-year-old man who allegedly jumped on his 89-year-old father sitting in a recliner head-butting the elderly man. According to the probable cause affidavit, the impact caused the father's head to bleed and left a knot on his forehead.
Izard County authorities responded to a report of a domestic battery at a residence along Day Road in Horseshoe Bend last Wednesday, with the suspect allegedly armed with a knife.
Upon arrival, law enforcement met the son, who identified himself as Michael Edward Gilbreath, at the front door.
A deputy checked Gilbreath for weapons and walked him to his patrol unit to contact dispatch.
When he left Gilbreath with a second officer, he heard the suspect raise his voice, leading him to be placed in restraints. Until this point, Gilbreath had reportedly been calm, before having a "drastic mood change for no apparent reason."
Preliminary inquiries at the scene suggested Gilbreath had stepped in to stop his father from hitting his mother. However, further investigation revealed Gilbreath had been drinking when he arrived at his parents' residence about three hours earlier.
After the altercation between the son and his father, the elderly man went to the bedroom, with Gilbreath following him with a knife.
Gilbreath allegedly held the knife to his father's neck saying, "I should just do you in right now. If you have me put in jail, I'll kill you when I get out."
When Gilbreath left the bedroom, the 89-year-old man went out a window, left and called the sheriff's department to report the incident.
During the head-butting incident, two children, ages 2 and 6, were in the room.
Emergency medical personnel responded to the residence to evaluate the father's injuries.
Gilbreath also faces a misdemeanor count of endangering the welfare of a minor.
His bond was set at $20,000, and he is to have no contact with his father.
WebReadyTM Powered by WireReady® NSI