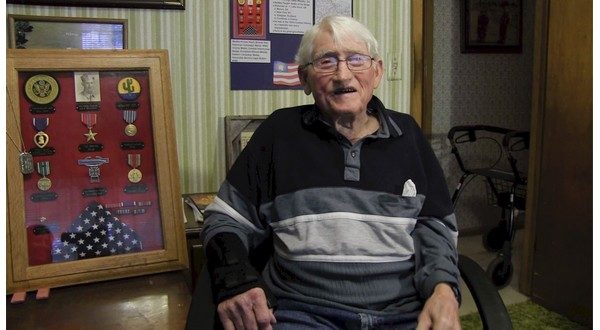 Photo: Perry Harness. Photo: Courtesy of Sen. John Boozman
Arkansas' senior U.S. Sen. John Boozman has continued his "Salute to Veterans" by recognizing another area resident. Ninety-five-year-old Perry Harness of Harrison, a veteran of World War II, became the latest part of Boozman's series saluting the military service of Arkansans.
Harness was born in Bear Creek to farming parents. He grew up during the Great Depression in a small cabin with his parents, eight siblings and his grandparents and came to understand the value of hard work and importance of family at a young age.
Harness graduated from Marshall High School and began his service in the U.S. Army after being drafted. He trained at Camp Wheeler near Macon, Georgia. He was later shipped off to Europe on the Queen Elizabeth, an ocean liner used for troop transport.
Harness landed in Scotland, but before long, he found himself fighting in the Battle of the Bulge in France. He was a rifleman during his time in battle before getting his final military job – carrying a bazooka.
Harness was shot in the knee after weeks of fighting in the cold and snowy battlefield. Despite being under enemy fire and having limited immediate medical attention, he was able to find assistance and a ride to a treatment facility. Harness' injury would prevent him from continuing his service, and he was honorably discharged with a Bronze Star and a Purple Heart in Daytona Beach, Florida.
Harness returned to Arkansas, got married and became a shoe salesman for what is now known as Harness Boots and Shoes on the square in downtown Harrison. He was a founding member of the Boone County Disabled American Veterans in 1946, and Sen. Boozman says he continues to fight for those who have served the country as he did in battle 75 years ago.
Sen. Boozman will submit Harness' interview to the Veterans History Project, an initiative of the Library of Congress' American Folklife Center to collect and retain the oral histories of the country's veterans. Click here to view Harness' interview.
WebReadyTM Powered by WireReady® NSI