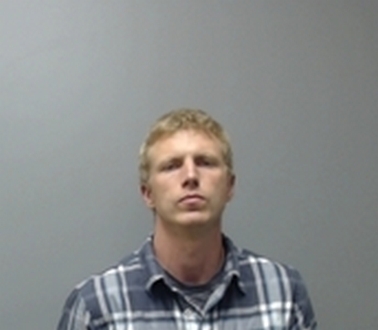 Photo: William Colby Black
A man who reported he and his wife were chased and shot at by a group of "Hispanics" as they drove between Northwest Arkansas and Mountain Home appeared in Baxter County Circuit Court Thursday and entered a not guilty plea to his charges.
The man claiming to be a victim, 33-year-old William Colby Black of Mountain Home, ended up being charged instead.
Black is now charged in two incidents – one on Oct. 27 and another a day later.
His charges are possession of drugs, including methamphetamine, simultaneous possession of drugs and firearms and criminal trespass.
The simultaneous possession of drugs and firearms is a Class Y felony, punishable by a sentence of up to life in prison.
About 11:40 p.m. Oct. 27, Mountain Home police and Baxter County deputies went to Baxter Regional Medical Center after being told a man was being treated at the facility for a possible gunshot wound.
Following an investigation, it was determined the story about the pursuit did not hold up, and Black's status changed from potential victim to arrested.
According to a release from the Baxter County Sheriff's Office, it was determined neither Black nor his wife had been injured during the incident.
The wife was identified as Brittany D. Wadsworth. A check of the license plate on the vehicle she and Black had been in came back registered to her with a Mountain Home address.
While not wounded in the alleged shooting incident, the couple did appear to "be on some sort of stimulant or hallucinogen," according to reports by law enforcement.
The story about where the alleged chase took place kept changing, according to the press release.
According to investigators, Black said he and Wadsworth had been in Springdale and were returning to Mountain Home to replenish their stash of methamphetamine.
The Arkansas State Police joined the other two law enforcement agencies in looking into Black's claim.
A search of the couple's vehicle revealed a hole in the windshield and damage to the weather stripping of one of the doors.
The damage was reported to look as if bullets had caused it, but evidence showed the shots had come from inside the vehicle.
No other damage was discovered.
A .45-caliber handgun was found in the vehicle's console, along with two empty shell casings. Multiple loose .45-caliber shells were located throughout the vehicle.
Officers also found two cellophane sleeves containing various pills and a white substance believed to be methamphetamine.
Black claimed ownership of the gun and the drugs and was alleged to have admitted he had taken some of the pills and ingested methamphetamine, as well.
Investigators said Black reported during the chase with the "Hispanics," he had fired a number of shots from his handgun in the direction of his alleged pursuers and in the air.
The release indicates Black was freed from jail after posting a $15,000 bond.
Black and Wadsworth's bizarre encounters continued Oct. 28, when they are alleged to have arrived uninvited at a home along Klemm Place.
According to court records, Black had been questioned by investigators from the state police at 10:47 a.m. on the 28th regarding the shooting incident.
At just after 4:30 p.m., a Baxter County deputy responded to the Klemm Road address to investigate the two strangers who had showed up at the residence.
The pair was identified as Black and Wadsworth. Investigators reported Wadsworth is alleged to have "run up" to a resident of the home and said Black was going to kill her.
When the incident began, only the female resident and her 3-year-old child were at home. The female victim said she told Black and Wadsworth to leave.
She told investigators she armed herself in fear for her safety and that of her child. At one point, there was concern Wadsworth might try and enter the house.
Investigators said the victim's husband had been called, and he returned home to check on his family.
At one point, Black is said to have alleged Wadsworth was high on Klonapin, and he was partial to another drug.
The male victim told authorities Black reported to him Wadsworth had wrecked the car, and one of the tires was flat. The husband reported the vehicle the couple arrived in was covered with glass and a tire was deflated.
Black and Wadsworth were alleged to have been yelling at each other in the yard of the residence, apparently over the damage to the vehicle.
Wadsworth told the male victim Black intended to cut her throat with a knife still in the vehicle. The husband retrieved the knife and gave it to the responding deputy, when he arrived.
As a result of the unwelcome visit, criminal trespassing charges were added to Black's probable cause affidavit related to the alleged car chase and shooting incident.
In early September, court records show Wadsworth filed a petition to keep Black away from her. She alleged she had kicked him out of her residence because he was "acting very crazy" and "telling wild stories of people after him."
The petition was filed Sept. 3 and Wadsworth requested it be dropped 11 days later.
Petitions have also been filed related to the custody of children from various relationships in which Black and Wadsworth have been involved.
WebReadyTM Powered by WireReady® NSI