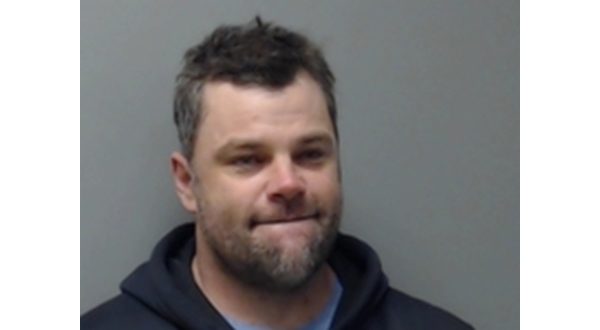 Photo: Christopher Allen Brim
A Jordan man pulled over for speeding found himself in more serious trouble when it was discovered he was in possession of a handgun.
Forty-year-old Chris Allen Brim is a convicted felon and not allowed to be in contact with weapons.
Brim entered a not guilty plea to the charges against him during a session of Baxter County Circuit Court last week.
He was ordered to reappear Dec. 3.
Brim was pulled over on Jordan Road just after 10 a.m. on Nov. 9 when a Baxter County Deputy Sheriff clocked his pickup truck traveling at 23-miles-per-hour over the posted limit of 40-miles-per-hour.
It was discovered Brim was driving with a suspended license and no insurance.
Brim was found to be on felony probation with a waiver permitting warrantless searches of his person and property.
The deputy reported Brim told him he had a .45-caliber pistol under the front seat of the truck.
The gun was retrieved and Brim was taken to the Baxter County Detention Center.
He was booked on charges of being a felon in possession of a firearm and a number of traffic violations.
He was freed on his new charges after posting a $5,000 bond.
The last criminal charges filed against Brim also involved a firearm.
He was arrested in mid-March last year after being involved in a heated dispute over the ownership of a pickup truck.
According to the probable cause affidavit, Brim had been to a residence along County Road 419 on two occasions to try and retrieve the truck.
The vehicle was allegedly registered to his mother and her estranged husband who was then living in the County Road 419 residence.
The estranged husband and Brim's mother were reported to be going through a divorce and were in a tug-of-war over the Dodge Dakota pickup.
At one point during the confrontation, Brim was reported to have been told by his then stepfather that the truck issue was none of his business.
Brim is alleged to have pulled out a handgun during the confrontation, held it to his stepfather's head and demanded the older man give him the truck.
The stepfather went into his residence under the guise of getting the keys to the vehicle, but locked the door with Brim outside and waited on deputies to arrive.
Before deputies got to the scene, Brim had left in his vehicle. He was picked up on Highway 62/412 East.
Brim was sentenced to six years probation on the earlier charge.
The new charges filed against Brim stemming from the recent traffic stop have resulted in the filing of a petition to revoke his probation in the 2019 case
WebReadyTM Powered by WireReady® NSI