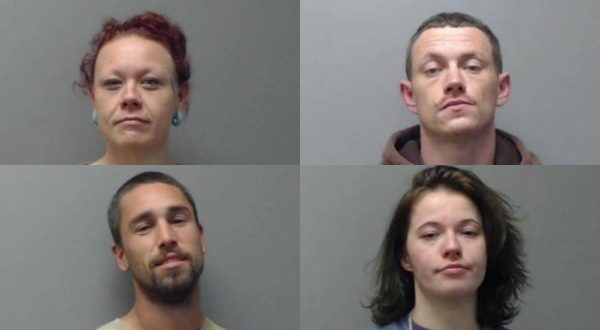 Photos: (clockwise from upper left) Tiffany McGough, Joshua Callaway, Kara Casey and Gavin Reed
When people inside a residence along Mockingbird Lane saw law officers coming up the driveway, two tried to jump out a window and another barricaded himself in a bedroom.
The officers came to the residence on Nov. 25 looking for 35-year-old Tiffany McGough, a parole absconder, but found much more.
According to the Baxter County Sheriff's Office, there were four adults in the home — none of them unfamiliar with being arrested, charged and being brought to court.
They have been locked up in the county jail, the state prison system or both.
The quartet has had a significant number of criminal cases opened on them through the years.
Those arrested were 30-year-old Joshua Callaway of Cotter, 32-year-old Gavin Reed of Midway, 21-year-old Kara Casey of Norfork and McGough.
All four appeared during a session of Baxter County Circuit Court Thursday. Three of the defendants entered not guilty pleas. Callaway was ordered to reappear Dec. 17
The officers reported finding drugs and drug paraphernalia, including smoking pipes, used syringes and digital scales in the house.
In the bedroom where Callaway barricaded himself, a hole was discovered between the wall and ceiling where a bag was concealed.
The bag was reported to have held almost 6 grams of a mix of methamphetamine and fentany.
In addition marijuana was also located.
A Jeep reported stolen from Mountain Home Nov. 8 was found parked next to a camper trailer on the Mockingbird Lane property. Personal items belonging to Reed were discovered in the vehicle.
Officers said two small children had spent the night of Nov. 24 in the residence.
It was reported there was no running water, and an outside generator provided the only electricity. The residence was reported to be filthy, with rotten food and clutter throughout.
In the probable cause affidavit, investigators described the living conditions in detail:
"There were rat droppings on the counters, and inside the cabinets and the floor of every room of the residence. In Calloway's bedroom there was a whole smoked turkey sitting on a nightstand that appeared to have sat there until it spoiled. There were multiple holes in the floor where the ground could be seen. One could not walk without stepping on clothing, food, urine puddles or other items scattered throughout the residence."
The children were released into the custody of a relative.
Individual charges filed against the four through the years have included commercial burglary, theft of property, being a felon in possession of a firearm, stealing firearms, possessing drugs, being in simultaneous possession of guns and drugs, endangering the welfare of a minor, breaking or entering and theft by receiving.
According to court records, Callaway and McGough have both done prison time. Callaway was sentenced to six years in late 2018 to be served concurrently with Baxter and Marion County cases.
He apparently was paroled after spending about a year behind bars. The parole was revoked on the day he was arrested at the Mockingbird Lane residence.
McGough's parole was revoked on Nov. 25, as well.
Callaway, Reed and McGough are all charged as habitual offenders. Bond for the four was set at $20,000 each.
WebReadyTM Powered by WireReady® NSI