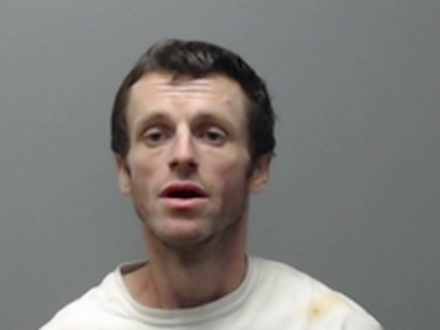 Photo: Taylor Daniel George
The Dollar General Store in Midway was evacuated in mid-November when a man began displaying bizarre behavior, including grabbing customers and having a loud, profane two-way argument with a broom.
Thirty-one-year-old Taylor Daniel George of Mountain Home was arrested and charged with possession of drug paraphernalia and disorderly conduct.
He appeared during a session of Baxter County Circuit Court Thursday and entered a not guilty plea to the charges stemming from the incident.
"I've got a simple thing here, I need treatment," George told the court after being asked if he had a lawyer to represent him. He said, "I do have a drug problem and need to get into rehab."
George said he had hoped he could get relatives to help him bond out of jail, "but I have messed things up with my family and that fell through."
According to the probable cause affidavit, when a Baxter County Sheriff's Office investigator arrived at the scene, a store employee said she had vacated the building and was stopping anyone from entering the business.
A male "civilian" had stayed in the store to watch George until law enforcement arrived.
The investigator said when he made contact with George, he "was having an extremely heated argument with a broom."
George was reported to have been shouting profanities at the broom — then switching roles and shouting profanities back, as if he was the broom.
The investigator said after he made direct contact with George, he "responded politely" and was cooperative.
As the deputy was taking George outside, he reported seeing George had several items with him. He gave the items to the investigator "without incident."
When he was outside, the investigator patted down George and found a used syringe in his right front pants pocket.
As he continued to interact with George, the investigator reported, "It was obvious that he was under the influence of a powerful stimulant."
The syringe later tested positive for methamphetamine.
George has picked up a number of criminal charges through the years, tracing back to when he was a teenager.
He has been charged with vehicle thefts, residential burglary and various drug-related crimes.
According to court records, George was on parole at the time of the Midway incident. The parole was revoked Nov. 10, the day he was arrested for the disturbance at the store.
Circuit Judge John Putman reduced George's bond to $1,000.
WebReadyTM Powered by WireReady® NSI