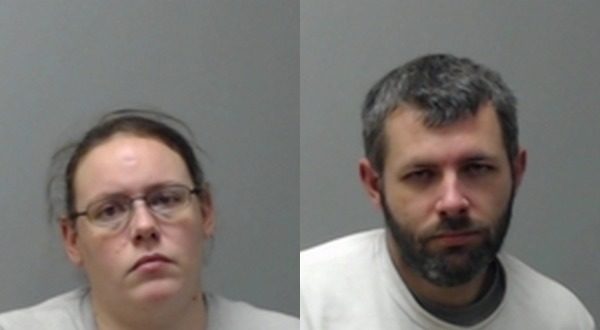 Photos: Amanda Maggard and Joshua Hergesheimer
A couple from West Plains parked down a dead-end road near Walmart with all the windows in the vehicle covered over has been arrested and charged with being in possession of drugs and paraphernalia to use drugs.
On Nov. 16 about 8 p.m., a Mountain Home police officer saw a small pickup parked near the end of Driller's Road.
The officer reported, as he approached, the female passenger opened the door to the truck and began to get out.
She was identified as 34-year-old Amanda Maggard. The officer asked what Maggard and her male companion, 32-year-old Joshua Hergesheimer, were doing parked on the road with the vehicle' windows covered.
Both Hergesheimer and Maggard appeared in Baxter County Circuit Court last Thursday and entered not guilty pleas to the charges against them.
She told the officer they were eating supper, before she had to return to work at Walmart. Maggard also told the officer the windows in the vehicle were covered to keep light out of the truck.
The officer reported the streetlight in the area was not so bright that it would require window coverings to block the light.
Both Maggard and Hergesheimer were found to have suspended driver's licenses.
When the officer said he would have a drug-sniffing dog brought to the scene, Maggard said there might be a pipe for smoking marijuana inside the truck.
Hergesheimer told the office the pipe was behind the center console. The office found the pipe, along with one used to ingest methamphetamine.
Small plastic bags were also located — one containing a white crystalline substance and the other a green leafy material.
Both Maggard and Hergesheimer were arrested and taken to the Baxter County Detention Center. They are both free on $5,000 bonds.
WebReadyTM Powered by WireReady® NSI