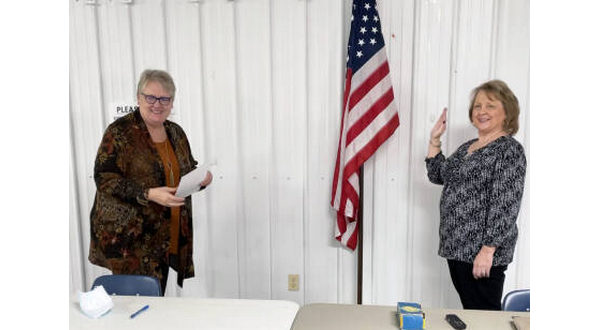 Photo: Fulton County Clerk Vickie Bishop (left) swore Lavenia Goodson in as the Fulton County Assessor earlier this month following a vote of the quorum court. Goodson will finish out the term of Brad Schaufler, who recently announced his retirement. Photo: Courtesy Areawide Media
Fulton County has a new assessor following a vote of the quorum court in a special meeting earlier this month.
Areawide Media reports the meeting was called to declare the vacancy of Fulton County assessor and to make an appointment. The court voted unanimously to appoint Lavenia Goodson to fill the vacancy.
Fulton County Assessor Brad Schaufler recently announced his retirement and served his last day in office Nov. 30. Schaufler served as assessor for 12 years. He took office Jan. 1, 2009.
Following a roll call of the justices of the peace, Judge Gary Clayton asked for those interested in the appointment to stand. Goodson was the only one present expressing interest in the appointment.
Goodson told the court she has served as the chief deputy assessor for the last 11 years. She has worked for the county courthouse for 28 years.
The appointment was effective immediately. By being appointed, Goodson will not be eligible to run for election. She will serve out the remaining term ending Dec. 31, 2022.
WebReadyTM Powered by WireReady® NSI