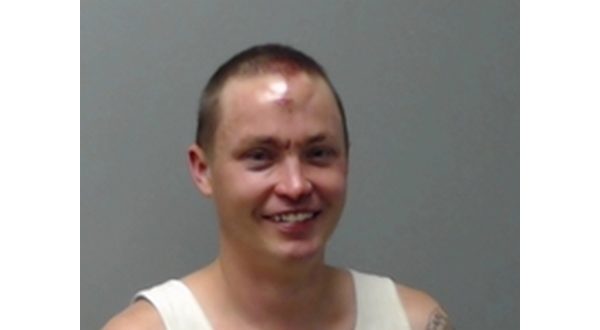 Photo: Daniel Jacob Somsel
A man charged with attacking his neighbor with a machete has now picked up new charges while locked up in jail.
Thirty-one-year-old Daniel Jacob Somsel of Gamaliel appeared during a session of Baxter County Court Thursday.
He entered a not guilty plea to the newest charges against him in which he is accused of attempting to damage a security camera in the recreation yard at the Baxter County Detention Center.
In the earlier case filed in August, Somsel was charged with aggravated assault, second-degree battery, obstructing government operations and disorderly conduct. In the second case, he is charged with impairing the operation of a vital public facility and criminal mischief.
According to the probable cause affidavit, a jailer was monitoring surveillance cameras overlooking the recreation yard when the image turned pink.
Footage from other cameras was reviewed, and Somsel was alleged to have been shown throwing an object at the camera multiple times "trying to hit it."
Somsel was able to eventually hit the camera knocking it off its base and damaging it.
During his appearance Thursday, Somsel told the court he did not understand why the new charges were filed against him. He said was only playing a game and did not intentionally target the surveillance camera.
He has also said the original charge against him contained erroneous information, and there was proof to back up his claim.
He will be represented by an attorney from the Public Defender's Office.
According to the probable cause affidavit in the machete attack, the victim heard a man and woman arguing behind their residence along Black Forest Lane in Gamaliel.
He went outside to see what was happening. He told Baxter County deputies Somsel attacked him with the machete.
The neighbor said the female left the residence and began walking down State Highway 101.
After talking to the victim, deputies went to Somsel's nearby residence.
Somsel was alleged to have come out of the house yelling at the deputies. They reported he appeared to be on a certain kind of stimulant. He was reported to have refused to give the deputies his name.
His story was that the neighbor came outside and charged at him. Somsel said he took a machete and struck the neighbor on the upper right forearm in self-defense.
The deputies placed Somsel in custody and put him in the back of a patrol car. He was reported to have yelled and kicked at the back cage in the sheriff's office vehicle, while being taken to jail.
He was also reported to have banged his head against the cage to the point he had blood on his forehead, when he was booked into the jail.
The victim told deputies he did not need an offered ambulance or medical attention. He said if he determined he did, he would drive himself.
When Somsel appeared in his original case in late August, he told the court, "I don't know how a man can come onto my property and hit me and not be charged with something."
Somsel's bond is set at $15,000. He told the court, "There is no way I can make that bond. I have nobody else in this world, and no money."
He said he had been living in his house "in Arkansas for a year, and I have almost starved to death."
WebReadyTM Powered by WireReady® NSI