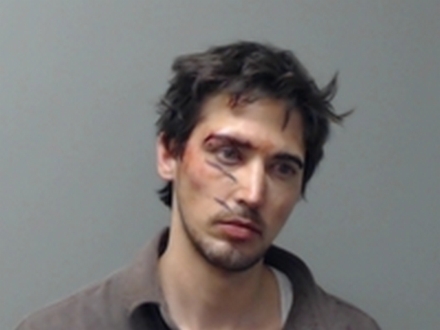 Photo: Luke Alexander Dennis
A man alleged to have fought with a Mountain Home police officer trying to arrest him appeared in Baxter County Circuit Court earlier this month.
Thirty-three-year-old Luke Alexander Dennis of Mountain Home entered a not guilty plea to charges of resisting arrest, second-degree battery, possession of drugs and drug paraphernalia, driving while intoxicated and refusal to take tests to determine his blood/alcohol level.
The officer reported pulling up behind a pickup truck about 11 a.m. on Dec. 1. The truck's license plate expired in 2016.
After the office activated his emergency lights, the vehicle, which was driven by Dennis, pulled into a parking lot.
When the officer told him the reason for the stop, Dennis said he was on the way to renew the license plate.
The officer noted in his report Dennis was actually headed away from the local office of the state Department of Finance and Administration.
The officer reported Dennis to be very nervous. He had problems finding his driver's license and proof of insurance.
In the probable cause affidavit, the officer reported he detected the odor of marijuana and asked Dennis if he had any of the substance in his possession.
Dennis is alleged to have answered, "Yes, do you want it?"
At one point, Dennis began to actively resist, and the officer called for backup.In addition, a civilian working nearby came to offer assistance.
The officer pulled his Taser and "drive stunned" Dennis several times in the left leg.
Dennis tried to take the weapon away from the officer, who reported he "struck the offender several times" making him release his grip on the Taser.
At one point, Dennis got back in the driver's seat of the truck, and the officer and civilian had to pull him out of the vehicle and onto the ground.
He continued to refuse to put his hands behind his back so he could be handcuffed.
The officer said he was concerned Dennis might have a weapon and so continued to strike him with his fist to force compliance with his instructions.
A second officer arrived, and Dennis was finally handcuffed.
Officers found a small bag of methamphetamine in Dennis' wallet and paraphernalia used to ingest both methamphetamine and marijuana on his person.
Dennis was taken to Baxter Regional Medical Center for treatment. After being released, he was taken to the county jail.
His bond is set at $5,000.
WebReadyTM Powered by WireReady® NSI