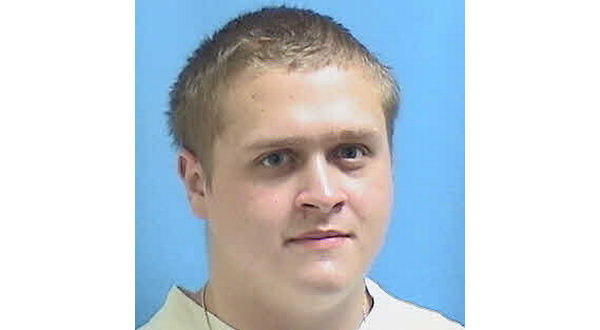 Photo: Gregory Mayfield

A Federal Court judge has dismissed all but two of Gregory Mayfield's many claims alleging ill treatment while he was an inmate in the Baxter County jail.
The 21-year-old Mayfield of Mountain Home is incarcerated in the Varner Unit of the state prison system on earlier charges.
The lawyer for the four defendants in the case, all employees of the Baxter County Sheriff's Office/Detention Center, filed a motion for summary judgment in late August last year asking that all of Mayfield's allegations be dismissed.
In his recently released ruling, Federal District Judge Timothy Brooks said only two of the many claims made by Mayfield could proceed to trial.
Judge Brooks said he would issue a separate order related to trial scheduling at a later date.
All of the defendants were dismissed from the suit except Sgt. Ethan Raymond, who was a jailer at the time the alleged incidents took place.
Judge Brooks ruled that an excessive force claim in which Mayfield alleges Raymond struck him on the side of the head on Dec. 7, 2019 could proceed to trial.
Raymond has consistently denied striking Mayfield, saying in one filing that no such incident ever occurred.
The court ruled  it could make no clear-cut decision on this claim, as it had only seen "two directly contradictory sworn statements regarding the incident."
There was not enough evidence beyond the statements of Raymond and Mayfield available to either prove or refute the allegations, the court wrote.
Mayfield's only other claim the court allowed to remain open is one in which he alleges he was intimidated by a jailer.
The jailer, Mayfield alleged, was Raymond. He said Raymond threatened to charge him with a major infraction for appearing to be making threats toward jail staff.
In allowing the intimidation claim to proceed, Judge Brooks noted that after Mayfield filed a grievance on Jan. 5, 2020 alleging Raymond had violated his constitutional rights, a reply was sent to the inmate containing the words, "I hope you are not making threats toward staff — that could be considered a major infraction."
The court noted that after that message was delivered, "Mayfield filed other grievances about his conditions of confinement, but never mentioned Raymond or the alleged assault again."
The question to be decided in this claim is "whether Jailer Raymond retaliated against Mayfield for exercising his First Amendment right to file grievances."
Mayfield filed a blizzard of grievances while in the jail, ranging from the mundane to allegations he was assaulted, and his life threatened.
Jail staff contends Mayfield tells only part of the story in his court filings.
He has, for example, complained about not being permitted to take showers, or being prohibited access to the recreation yard when, in fact, Mayfield is alleged to have refused to do both at times.
Mayfield also alleges water in his cell was shut off for three days, lights were left on all night, and that he was supplied a plunger to flush his toilet.
In the motion for summary judgment, the defendants contended that water was never cut off to Mayfield's cell for three days, that lights were only turned on briefly during bed checks, and that if any inmate was responsible for clogging the toilet in his cell, the inmate would, as a matter of routine, be given a plunger to fix the problem.
Mayfield said jail personnel withheld medicine that could have caused him to lose slight in one of his eyes.
Mayfield's eye was not injured in jail, but when he was pistol-whipped in a Mountain Home residence.
He alleges the things that happened to him in the Baxter County jail add up to cruel and inhuman punishment in violation of the 8th Amendment to the U.S. Constitution.
In dismissing the claim, Judge Brooks said he did not believe "that relatively short, sporadic deprivations of cleaning supplies, recreation, showers, access to newspapers, or the law library and having medicine delivered late on one occasion rose to the level of constitutional violations."
Mayfield sometimes filed grievances, because he alleged he had not received copies of earlier grievances he had requested.
The jail staff contended Mayfield would make repeated requests for the same grievances, saying he had lost the ones originally provided to him.
During his many appearances in Baxter County Circuit Court, Mayfield always voiced one or more complaints, as to how he was being treated in the county jail.
A Conway attorney representing the staff members earlier filed a general denial of all of Mayfield's allegations.
The attorney then filed the motion for summary judgment on which Judge Brooks just ruled.
Mayfield's filing with the federal court is commonly referred to as Section 1983 litigation, since it is based on Section 1983 of the U.S. Code.
Section 1983 permits prisoners to sue correctional officials, when conditions of confinement fail to meet constitutional standards in a number of areas — including physical security, medical care and freedom of religious expression.
According to federal court records, Mayfield's complaint was filed in the Federal District Court for the Western District of Arkansas Jan. 20 last year.
Mayfield asked the court to appoint an attorney for him, since he has no funds to hire one. The request was denied. There is no constitutional right to an attorney in a civil case such as Mayfield's.
Many of the lawsuits are termed frivolous, having no basis in law or fact. One judge was quoted as saying, Section 1983 allegations are "written by people with too much time on their hands."
WebReadyTM Powered by WireReady® NSI