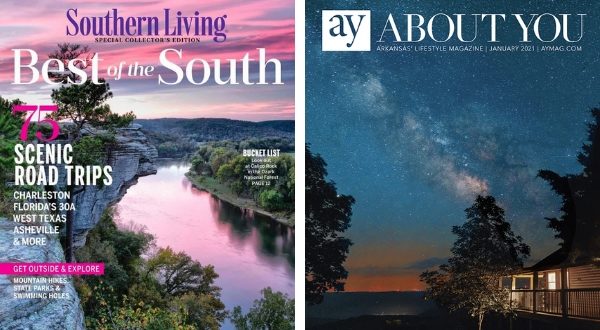 Two area picturesque locations are gracing the covers of two magazines now on newsstands.City Rock Bluff near Calico Rock is on the cover of Southern Living magazine. The cover photo is part of the magazine's "Hidden Southern Escapes for Summer Getaways" article in a Special Collector's Edition.While the photo features the White River, the article focuses on the Buffalo National River, saying, "Its sparkling waters and Ozark Mountain view still amaze."
Southern Living says, "Numerous American rivers have been harnessed by dams, so the free-flowing ones that are preserved by the National Wild and Scenic Rivers System are rare and special. Congress created this program in 1968, and the first American waterway to be named a national river is right here in the South — Arkansas' Buffalo National River."
The article also notes, in 2019, the Buffalo National River became an International Dark Sky Park, making stargazing yet another reason to visit.
The International Dark Sky Park designation is the focus of the second magazine featuring an area attraction.
AY Magazine, or About You, is a Little Rock lifestyle publication. Its cover article, "Dark Skies, Strange clouds," is an extensive look at Arkansas' dark skies, with multiple photos from Newton County.
The article features James Bruce McMath, who before his newfound retirement was a lawyer at McMath Woods, P.A., in Little Rock. McMath's father, the late Sidney McMath, founded the law firm and served as Arkansas' governor.
AY Magazine's article notes, "…these days (or night), the retired litigator devotes most of his attention to matters beyond our humble rock as the chairman of the Arkansas Natural Sky Association (ANSA), an affiliate of the International Dark-Sky Association (IDA).
WebReadyTM Powered by WireReady® NSI