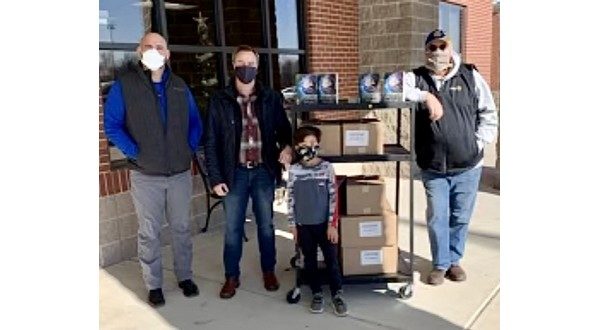 Photo: Rotarian/MHPS Superintendent Dr. Jake Long, Dictionary Chairman Jay Chafin with his son Alex and Rotarian David Matty at Hackler Elementary School. Photo: Courtesy Brenda Nelson, MH Rotary PR Chair
The Rotary Club of Mountain Home delivered 435 student dictionaries to area third graders in Mountain Home, Cotter, Norfork, Flippin, Calico Rock and the MH Christian Academy again this year.
The dictionaries have been one of the club's priority and signature projects for several decades, provided in part by a Rotary District 6110 matching grant.
According to project chairman Jay Chafin, the large books contain not only a dictionary of every known word in the English language, but also exhaustive information about every state; a copy of the Constitution and Declaration of Independence; facts about the countries of the world; geographical maps; sign language; the monetary system; and much more.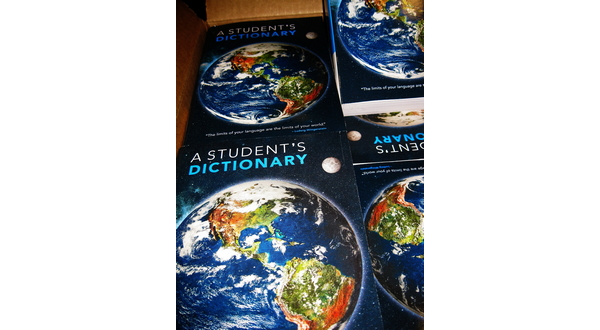 The first thing Rotary volunteers hear from the students is, "I get to keep this? It's my very own book, and I can put my name in it?" Teachers tell the club members their students carry the dictionary all the way through high school and into college.
This year, due to COVID-19 guidelines, club volunteers were not allowed into the school to deliver the books to each classroom, as has been done in the past.
The community's support of the Rotary Pancake Day allows the local club to distribute dictionaries to all third graders, teach the dangers of methamphetamine to all fifth graders, and train all eighth graders in discipline and leadership skills – every year in three different school districts of North Central Arkansas.
.
WebReadyTM Powered by WireReady® NSI