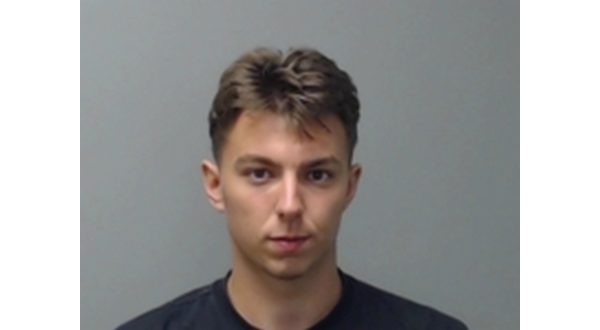 Photo: Noah Lee Lawhead
A motorcycle rider who led police on a high-speed chase that began in Gassville, continued through a large swath of Mountain Home and ended at a closed bridge in Missouri — about 24 miles up Arkansas Highway 201 North – appeared in Baxter County Circuit Court Thursday.
Twenty-year-old Noah Lee Lawhead of rural Mountain Home is charged with felony fleeing and a number of traffic violations.
He changed his plea to guilty and was sentenced to six years probation. The sentence was imposed under provisions of Act 346, meaning if Lawhead stays out of trouble during his probation, he may apply to have his record sealed.
Mountain Home attorney Christopher Floyd represents Lawhead.
Circuit Judge John Putman was hesitant to accept the Act 346 plea. Floyd told the court his client was a young man who knew he had made a mistake and asked the court to allow the Act 346 plea, so Lawhead would not have a felony on his record for the rest of his life.
The incident has also apparently ruined Lawhead's stay in the U.S. Naval Reserve. Floyd told the court his client had received notice from the U.S. Navy that a process was underway that would lead to an "administrative separation."
Floyd said Lawhead was attempting to get a job on a Mississippi River towboat, but what happened in court Thursday would play a big part in whether he was hired.
"What got into you?" Judge Putman asked at one point, and Lawhead said, "This started with a bad decision, and I really don't know what happened after that."
The pursuit started about 8 p.m. July 27 last year when a Gassville police officer clocked Lawhead's motorcycle doing 76 miles-per-hour within the city limits.
The Gassville officer pursued Lawhead and was joined by a Baxter County deputy sheriff at the entrance to Arkansas State University-Mountain Home.
Other officers joined the chase, according to the probable cause affidavit.
The pursuit in Mountain Home traveled along U.S. Highway 62B then to Cardinal Drive, then to Coley Drive and to Arkansas Highway 201 North.
Speeds were reported to have reached 100-115 miles-per-hour.
When Lawhead reached the closed Lick Creek Bridge in Missouri, he was forced to stop and surrender.
Lawhead was first turned over to Ozark County, Missouri authorities and then extradited back to Arkansas
He has been free on $15,000 bond.
WebReadyTM Powered by WireReady® NSI