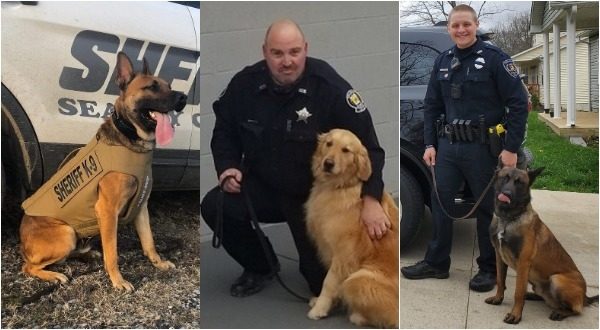 Photos: (from left) Searcy County Sheriff's Office's K9 Vader, Izard County Sheriff's Office's K9 Dramey, West Plains Police Department's K9 Loki
K9 officers from three local law enforcement agencies are making the news.
In Searcy County, K9 Vader is sporting a new bullet and stab protective vest thanks to a charitable donation from the non-profit organization Vested Interest in K9s, Inc.
K9 Vader's vest was embroidered with the sentiment "In memory of K9 Gabo, Jonesboro, AR EOW 1/16/20."
Vested Interest in K9s, Inc., established in 2009, is a 501(c)(3) charity whose mission is to provide bullet and stab protective vests and other assistance to dogs of law enforcement and related agencies throughout the United States.
This potentially lifesaving body armor for four-legged K9 officers is U.S. made, custom fitted, and NIJ certified. Since its inception, Vested Interest in K9s, Inc. has provided over 4,183 vests to K9s in all 50 states at a value of $6.9 million, made possible by both private and corporate donations.
The program is open to U.S. dogs that are at least 20 months old and actively employed and certified with law enforcement or related agencies. K9s with expired vests are also eligible to participate.
There are an estimated 30,000 law enforcement K9s throughout the United States.
Vested Interest in K9s, Inc. accepts tax-deductible contributions in any amount, while a single donation of $960 will sponsor one vest. Each vest has a value of $1,744-$2,283, weighs an average of 4-5 pounds and comes with a five-year warranty.
For more information, or to learn about volunteer opportunities, call 508-824-6978. Vested Interest in K9s, Inc. provides information, lists events and accepts donations at www.vik9s.org, or contribution may be mailed to P.O. Box 9, East Taunton, MA 02718.
In Izard County, K9 Deputy Hugo recently retired from the sheriff's department.
A department spokesperson says Hugo had a long and successful career for the agency and earned his retirement. Deputy Rusty Ford was presented a certificate of retirement for Hugo.
With Hugo's retirement, the Izard County Sheriff's Department has welcomed a new K9 narcotics dog, Dramey.
Dramey was trained by and acquired from Von Klein Stein Working Dogs LLC with the use of drug seizure money and private donations.
In West Plains, despite a brief pause in his working career, K9 Loki is back in full service and has wasted no time in assisting his fellow officers at both the police department and the Howell County Sheriff's Office.
Both instances occurred within hours of one other Feb. 1 and just after midnight on Feb. 21.
Due to K9 Handler Officer Paul Bradshaw Jr. being out of service after an on-duty injury, K9 Loki has been temporarily reassigned to Cpl. Wes Stewart. Cpl. Stewart has years of experience as a K9 handler.
Cpl. Stewart and K9 Loki had a mandatory two-week bonding period, after the transfer was made, and then both went to training to become a certified K9 team. All certifications for Cpl. Stewart and K9 Loki were completed at the end of January.
On Feb. 1, deputies with the Howell County Sheriff's Office were involved in a vehicle pursuit resulting in a suspect vehicle crashing and the driver fleeing on foot. The Howell County Sheriff's Office contacted the West Plains Police Department for assistance from K9 Loki.
Cpl. Stewart and K9 Loki arrived on scene and were told by Howell County deputies of the last known location of the suspect. At this point, Cpl. Stewart and K9 Loki began tracking the suspect. K9 Loki followed the suspect's scent through a wooded area, into a clearing and then to a detached garage at a residence on Pamela Drive in West Plains.
K9 Loki began picking up the suspect's scent around the west side of the garage where Cpl. Stewart located a male subject, later identified as 31-year-old Jacob Sims of West Plains, under bushes.
Sims was taken into custody and transported to the Howell County Jail on an outstanding felony warrant out of Howell County and was additionally charged with resisting arrest by fleeing.
A West Plains Police officer conducted a traffic stop on a vehicle in the area of South Hill Street and Maple Street due to the vehicle displaying expired license plates. During the course of the traffic stop, it was learned the driver of the vehicle, identified as 23 year old Jayson McDaniel of West Plains, had a revoked driver's license.
The officer also knew of pending charges against McDaniel for possession of controlled substances and drug paraphernalia. Based on this information, the officer requested K9 Loki to respond to the traffic stop. A short time later, K9 Loki arrived, and a free air sniff of the vehicle was conducted. During the sniff, K9 Loki detected the presence of narcotics within the vehicle.
Based off K9 Loki's detection of narcotics, a probable cause search was conducted of the vehicle resulting in the finding and seizure of several items of drug paraphernalia.
McDaniel was taken into custody and placed on a 24-hour hold for the pending drug charges and was additionally charged with driving while revoked, failure to display current state license plate, failure to provide proof of financial responsibility and possession of drug paraphernalia.
K9 Loki will be assigned to Cpl. Stewart until Officer Bradshaw is cleared to return to full active duty.
WebReadyTM Powered by WireReady® NSI