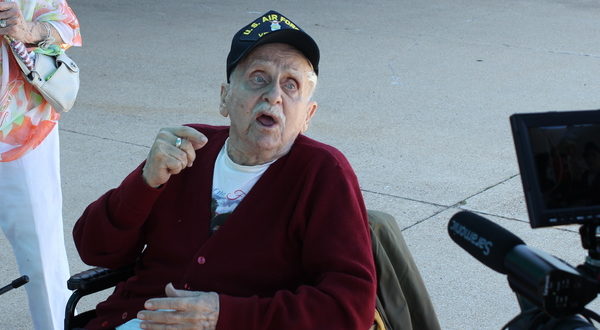 A Mountain Home resident got a chance to take to the skies Monday, catching a ride aboard a biplane as part of a program recognizing World War II veterans.
Elmcroft of Mountain Home resident Robert "Bob" Cwiak served with the U.S. Army Air Forces during the war as a bombardier aboard a B-24 stationed in Italy. On Monday, the 99-year-old climbed into the front cockpit of a 1943 Boeing Stearman plane, taking off from the Baxter County Airport for a 20-minute ride.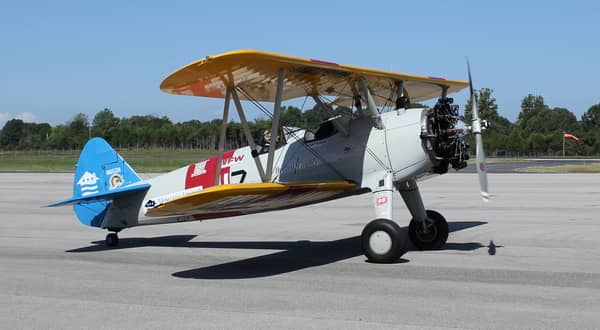 The plane and its pilot were provided by Dream Flights, a nonprofit organization that salutes military veterans with rides aboard a Stearman biplane, the same aircraft used to train many military aviators in the late 1930s and early 1940s. The organization is currently conducting "Operation September Freedom," which places an emphasis on recognizing World War II veterans.
Stearman pilot James Sims took Cwiak on a aerial tour of the Twin Lakes Area, flying over the White River, Norfork Lake and the dam at a height of around 1,000 feet.
Cwiak, who turns 100 next month, describes what his flight in the open-air plane was like.

Listen:


Once Cwiak touched back down at the airport, he was asked to sign the Stearman's tail, which already included the signatures of more than two dozen veterans. The biplane will be one of two Dream Flight Stearmans transported to Pearl Harbor later this year and flown in remembrance of the Dec. 7, 1941, surprise attack that launched the U.S. into World War II. Including the veterans' signatures on the planes' tails was one way to include them in spirit, if not in person.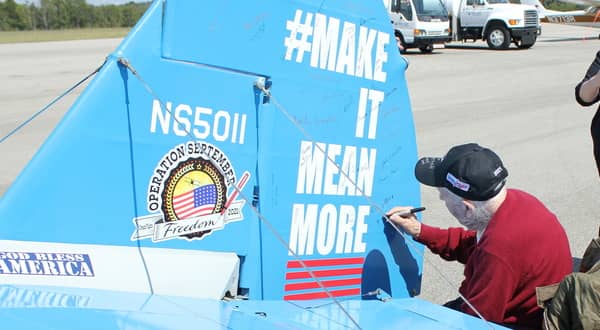 Sims flew the Stearman to the Baxter County Airport shortly before midday Monday. While waiting for the plane to arrive, Cwiak gave interviews to area media outlets about his time in the U.S. Army Air Forces.
Cwiak graduated from high school in Chicago and was in his third year of studying architecture at the Illinois Institute of Technology when he enlisted for service during World War II.
Trained to be a bombardier, he was one of four officers and 10 enlisted men that made up his B-24's crew, which was assigned to the European theater and flew missions out of southern Italy.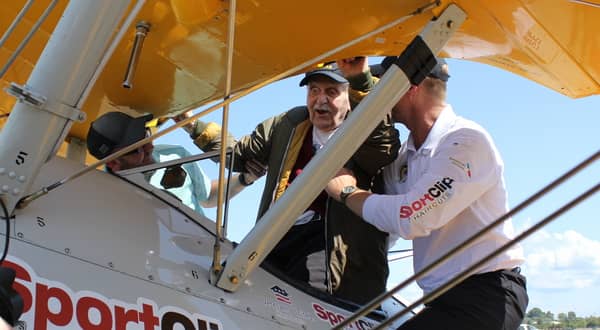 One story Cwiak shared Monday was a bombing mission where his plane's bomb bay doors opened, but the plane's six 500-pound bombs failed to drop. He left his bombardier station at the nose of the plane, crept back to the cargo area — which was now exposed to the high altitude the plane was flying at — and released the bombs by hand.
The bombardier did not have an oxygen mask and passed out once the bombs were released. He was saved from falling out of the plane by a fellow crewman and came to once the plane returned to base.
Cwiak would eventually conduct 62 bombing missions in Europe.
A crowd of about 25 people gathered at the airport Monday to watch Cwiak take his ride aboard the biplane. Those numbers included some fellow Elmcroft residents, military veterans and others.
Cwiak says he was flattered by the crowd that turned out to watch his flight.

Listen:


At the war's end, Cwiak was discharged and completed his architectural degree. He opened his own business in Park Ridge, Illinois, and later worked as an architect for the City of Chicago. In 1986, Cwiak and his late wife, Jane, moved to Mountain Home to enjoy their retirement.
For more information on the Dream Flights organization or how to register a veteran for a flight, visit dreamflights.org.
WebReadyTM Powered by WireReady® NSI