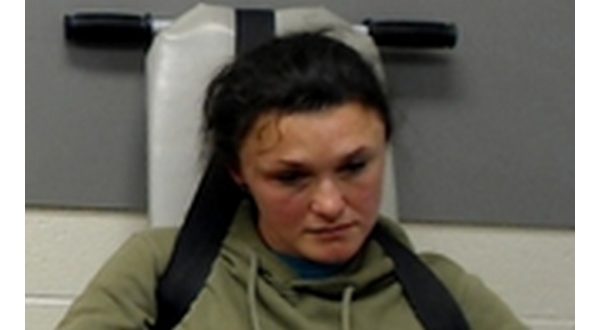 Photo: Tiffany Arlene Jones
A woman from Kansas is jailed in Baxter County on multiple charges following a lengthy high-speed pursuit by law enforcement Wednesday afternoon and an assault on a deputy during the arrest that sent the officer to the hospital. Seven felony and two misdemeanor charges have been filed against 32-year-old Tiffany Arlene Jones of Lawrence, Kansas.
Baxter County Sheriff John Montgomery says the incident started shortly before 4, when the sheriff's office was notified Jones had allegedly entered a residence on River Road in Lakeview and got into a truck belonging to the homeowner. When a resident of the home confronted Jones and asked what she was doing, she replied, "I'm taking my truck back." Montgomery says from their investigation, Jones apparently just arrived here in the past few days to help someone move and has no ties to the Twin Lakes Area.
Jones then stole the truck and left the residence. Baxter County Deputy Selena Harris spotted the stolen truck in Midway, as it turned onto State Highway 126 and headed towards Gassville. As Deputy Harris attempted to make a traffic stop, Jones refused to stop and proceeded to flee at a high rate of speed.
After turning onto U.S. Highway 62/412 in Gassville and heading toward Mountain Home, Jones was reported to be driving in all five traffic lanes at a very high rate of speed.
When she reached the 62/412 Bypass intersection in Mountain Home, Jones had to stop due to traffic. Law enforcement attempted to block her path, but Jones drove the stolen truck into a sheriff's office patrol car and continued on U.S. Highway 62 Business into Mountain Home.
Deputies were finally able to block Jones at the intersection of 62B and Sixth Street in downtown Mountain Home to end the pursuit. As deputies tried to arrest her, Jones was reportedly physically resisting arrest, which led to Deputy Harris being injured. Harris was taken to Baxter Regional Medical Center for treatment of injuries to her hand.
Jones is charged with residential burglary, three counts of theft of property, battery in the second degree on a police officer, fleeing by vehicle and aggravated assault, all felonies, along with misdemeanor charges of reckless driving and resisting arrest. Her bond is set at $75,000.
Agencies assisting the sheriff's office in the pursuit included the Lakeview, Gassville and Mountain Home police departments; Arkansas State Police; and Arkansas State Parks law enforcement.
WebReadyTM Powered by WireReady® NSI