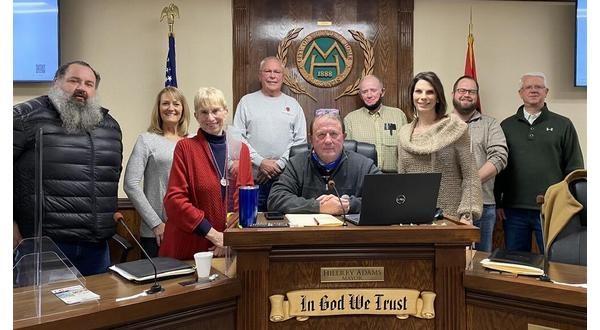 Mountain Home City Council faced a few items during the regular monthly meeting held Thursday.
Mountain Home Mayor Hillrey Adams says the board heard a second reading of an ordinance regulating unsightly and unsanitary properties in the city and the decision to adopt or not will be made at the next meeting.

Listen:


An ordinance regarding parking vehicles on unimproved surfaces was tabled at the meeting.
Adams says the current ordinance which had its first reading Thursday was not specific enough about the type of properties included.

Listen:


The current ordinance states parking on unimproved surfaces would be restricted.
In the current ordinance a person committs an offense if the person causes, permits or allows the parking or storage of any vehicle in the front yard upon any surface other than an improved parking surface.
The current ordinance also states no driveway or improved parking surface shall cover more than 50% of a residential front yard and it is an affirmative defense to prosecution for parking or storing vehicles on an unimproved surface or in an unconcealed or unscreened manner if such vehicles are parked in the rear yard and the rear yard is not a corner lot or directly adjacent to a public street right-of-way.
Maintenance included in the current ordinance states all improved parking surfaces should be maintained in good and safe condition and be free of holes, cracks or other failures that may affect the use, safety, appearance or drainage of the surface of an adjoining property.
Adams says the council also approved accepting bids for a piece of property owned by the city located at 623 East 8th Street. Information about the property may be found at City Hall.
The next meeting will be held June 23.
WebReadyTM Powered by WireReady® NSI