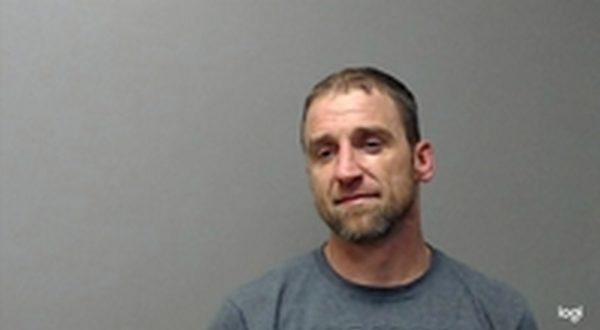 On May 16, a man pled guilty to drug charges in Baxter County Circuit Court and was put on probation for six years.
On June 2, thirty-seven-year-old David Kyle Simmons was again booked into the Baxter County Detention Center on new drug charges.
He had been free for only 18 days.
In the recent arrest, a Gassville police officer went to an address along Bayless Court in response to a number of calls from the public expressing concern about Simmons' place of residence.
The officer made contact with Simmons at the house where he was found working on a vehicle.
When the officer went inside the residence, Simmons is reported to have "tried to block" him from entering the bedroom Simmons and a female described as his girlfriend shared. Inside the bedroom, the officer located a rolled up blanket in which methamphetamine and a smoking pipe to ingest the drug were found.
At that point, Simmons was arrested and taken back to jail. According to electronic jail records, he was released Monday on a bond of more than $23,000.
MID-MAY PLEA
The May 16 plea was entered on charges of selling methamphetamine to a person working with law enforcement. According go the probable cause affidavit, Simmons, who listed an address along County Road 16 on court documents, sold 6.4 grams of the drug to the confidential informant for $275.
The alleged drug sale was made in December 2020, the probable cause affidavit shows it was not filed until June last year, and the case was listed as being officially set up this year.
Simmons was already on probation on charges from earlier cases when the drug case was opened.
The charge on which Simmons was just jailed has also triggered the filing of two petitions to revoke his probation in two earlier cases.
ACCUSED OF TAKING DEAD WOMAN'S PROPERTY
In one of his older cases, Simmons was given probation after pleading guilty to charges of theft of property. He was accused of removing a ring and other property, including a purse and cellphone, from a woman who had been killed in a one vehicle accident in mid-October 2018.
The victim was identified as Simmons' then girlfriend. According to the probable cause affidavit, the woman was returning from a gathering she had attended in Yellville. She is alleged to have told people at the gathering she was apprehensive about returning home because she had been having problems with Simmons.
As she drove along State Highway 178, she and Simmons, who was in another vehicle, were reported to have been talking and texting each other. Simmons was alleged to have gotten behind the victim's SUV in the vicinity of Bull Shoals dam.
At some point, the woman's car left the roadway, struck a culvert, went airborne and eventually turned over. The victim was ejected from the vehicle and was pronounced dead at the scene. According to court records, Simmons pulled up to the wreck and removed property belonging to the woman.
In the probable cause affidavit, Simmons is alleged to have stopped at the scene of the accident, "not with the purpose of rendering aid, but to remove evidence that might connect him to the accident or some other crime and to steal the victim's property.
Simmons is reported to have left the scene with the victim's belongings. Investigators reported family members of the victim "pressured" Simmons "hard enough that he returned the ring and purse."
WebReadyTM Powered by WireReady® NSI