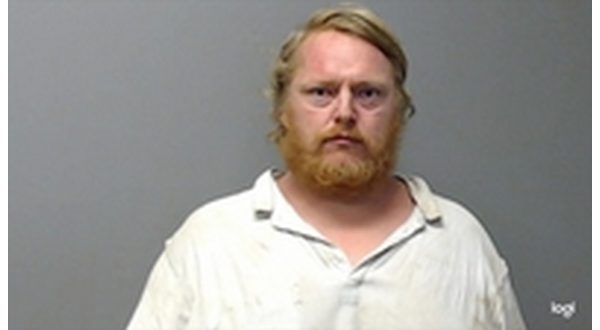 (Isaac James Melder)
KTLO, Classic Hits and The Boot News has received more information about the case of the missing Mountain Home girl who was found Wednesday night after being reported missing nearly six weeks ago. It's not the first time she had run away with the man who is now behind bars.
In an interview, Mountain Home Police Criminal Investigator Lieutenant Mike Day says searchers found 14-year-old Sara Gilpin living in a cave north of Summit in Marion County with the man she ran away with, 40-year-old Isaac James Melder of Yellville. Melder has been arrested and is facing charges of kidnapping, sexual indecency with a child, internet stalking of a child, interference with custody and contributing to the delinquency of a minor.
Day says searchers from the Mountain Home Police Department, Marion County Sheriff's Office and the canine tracking team from the Arkansas Department of Corrections Calico Rock unit were looking in an area off State Highway 14 north of Summit in very rugged terrain when the tracking team discovered the two in a cave.
Day says searchers had been looking in remote areas of Marion County for weeks based in information he had uncovered during the course of the investigation.

Listen:


Day says there have been multiple agencies involved in the search for Gilpin including the FBI, U.S. Marshall's Service, the Baxter and Marion county sheriff's offices, Harrison Police Department, Arkansas Department of Corrections and the Mountain Home Police Department. He says they utilized an airplane, helicopter, several drones and dog tracking teams in the search.
Authorities believed Melder may have had someone helping them hide, but based on what they found in the cave Wednesday night, that does not appear to be the case.

Listen:


Day says it's a big relief to find Gilpin and get her back home.

Listen:


Day says it's not the first time Gilpin had run away with Melder. The two were stopped in Marion County in January a few hours after she had been reported missing. He says during the investigation into the latest situation, it appears the two had been planning on her running away with him again since they were caught the first time.
Day says Melder had dated the girl's mother years ago and has known the daughter since 2013. Melder and the mother had recently dated again and broke up, but he was still allowed to visit the house.
The Mountain Home Police investigator says a case like this should be a wake up call for not only parents, but everyone.

Listen:


Melder is being held in the Baxter Detention Center with bonds totaling just over $1 million.
WebReadyTM Powered by WireReady® NSI