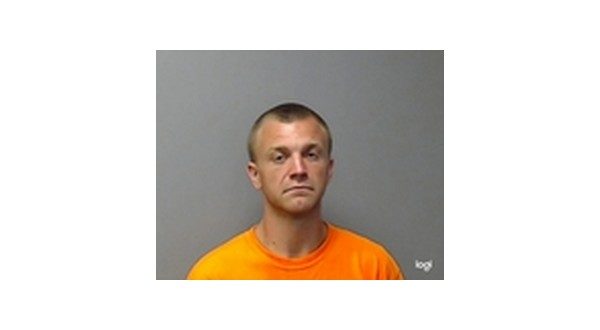 Jay Dockweiler (Photo courtesy of Baxter County Sheriff's Office)
A Mountain Home man is accused of stealing a vehicle left on an entrance ramp to the Sheid-Hopper Bypass after the owner left it due to a flat tire. Thirty-year-old Jay Dockweiler is in the Baxter County Detention Center on a felony count of theft of property and a misdemeanor count of first-degree criminal mischief.
According to the probable cause affidavit, a vehicle theft report was filed with the Baxter County Sheriff's Office on July 4. The victim stated she had a flat tire around 11:30 the night before on the entrance ramp off Arkansas Highway 5 South. After her attempt to fix the tire was unsuccessful, she reportedly left the vehicle sitting on the shoulder while she worked on fixing the issues. When the victim returned, her vehicle was reportedly missing.
On July 6, an Arkansas state trooper conducted a traffic stop for a vehicle with no license plate on U.S. Highway 62/412 at Hayes Street in Mountain Home. The trooper claims the ignition was removed from the socket and hanging down between the legs of the driver, identified as Dockweiler, and a flathead screwdriver was located in the floorboard.
After a background check, the trooper discovered Dockweiler had multiple outstanding warrants, and the vehicle identification number reportedly revealed it was stolen from Baxter County. Dockweiler was placed under arrest and transported to the Baxter County Sheriff's Criminal Investigation Division.
After being read his Miranda rights, Dockweiler asked for an attorney to be present. A Baxter County investigator says no questions were asked as a result, but Dockweiler continued to talk. He allegedly spontaneously uttered, "I did this solely by myself, without the help of anyone, so whatever is wrong is on me."
Online jail records show Dockweiler also has a hold for other agencies and a revocation bench warrant. His bond is set at $8,920.
WebReadyTM Powered by WireReady® NSI