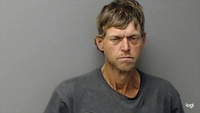 A Baxter County man has been arrested after discharging a firearm in a vehicle while simultaneously possessing methamphetamine.
According to the probable cause affidavit, investigators dispatched to a residence in Salesville regarding an aggravated assault. Authorities state 41-year-old Justin N. Walker had been involved in a verbal dispute turned altercation involving the discharge of a handgun.
Authorities state money was owed to Walker by the complainant and during the dispute over payment type with the victim, Walker pulled out a handgun and a struggle ensued.
The victim stated Walker pointed the handgun at him and the physical altercation occurred, resulting in the firearm discharging inside the vehicle.
Authorities were advised Walker left the residence in a red truck and deputies then observed the truck Walker driving southbound on Highway 5. A traffic stop was then conducted and authorities confiscated the semi-automatic handgun and a clear plastic bag later learned to contain approximately 1.7 grams of methamphetamine.
Walker was then taken into custody. Due to the firearm being used during an altercation resulting in a felony charge and the firearm being within reach of Walker while in possession of a felony amount of suspected methamphetamine when stopped, he was charged with weapons possession during the controlled substance offense.
Walker has been charged with felony counts of weapons possession during a controlled substance offense; possession of a controlled substance; aggravated assault; and criminal trespassing.
Walker has been released from the Baxter County Detention Center on a $25,000 bond.
WebReadyTM Powered by WireReady® NSI