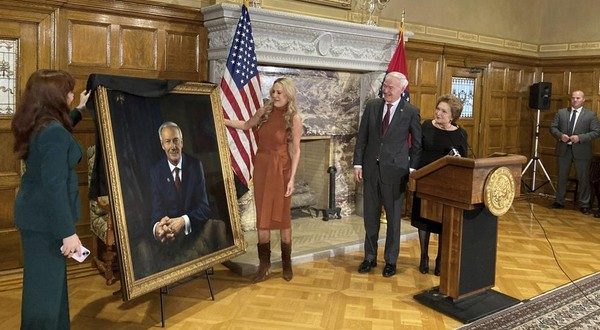 Arkansas Gov. Asa Hutchinson and first lady Susan Hutchinson look on as their granddaughter, Jaella Wengel, left, and daughter, Sarah Wengel, center, unveil the governor's official portrait on Tuesday at the state Capitol in Little Rock, Ark. Hutchinson will leave office on Jan. 10 after serving eight years as governor. (Photo courtesy of Associated Press)
LITTLE ROCK, Ark. (AP) – Arkansas Gov. Asa Hutchinson's official portrait was unveiled on Tuesday as the Republican prepares to leave office and is considering a run for president.
Hutchinson and First Lady Susan Hutchinson looked on as their daughter Sarah Wengel and granddaughter Jaella Wengel unveiled the portrait, which will hang at the state Capitol.
"I like it. I hope you all like it, because you're stuck with it for a long time,' Hutchinson joked after the unveiling.
Hutchinson leaves office on Jan. 10 due to term limits after serving eight years as governor. He's being succeeded by former White House press secretary Sarah Huckabee Sanders, who will be the first woman to serve as the state's governor.
Painted by New Orleans artist Michael Deas, the portrait shows Hutchinson smiling and standing over his office chair with the Arkansas and U.S. flags in the background.
"I intentionally wanted to stand because I wanted to reflect certain characteristics of me," Hutchinson said at a news conference after the portrait was unveiled. "And, as you know, we hit the ground running."
It will hang in the governor's conference room, where governors typically hold news conferences and bill signings. It will replace the portrait of Hutchinson's Democratic predecessor Mike Beebe, which will be displayed in another part of the Capitol.
A portrait of Sanders' father, former Gov. Mike Huckabee, is also on display in the state Capitol's rotunda.
Hutchinson is considering whether to seek the Republican presidential nomination next year. He has said he'll decide early this year on whether to mount a bid.
"I want to make a very measured decision, I want to listen to a lot of people, I want to be able to test the level of financial support for one of the biggest challenges that our country faces and that I would face if I did do that," Hutchinson told reporters.
WebReadyTM Powered by WireReady® NSI