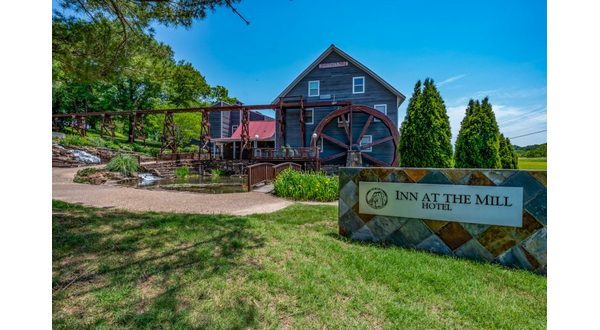 The Inn at the Mill in Washington County, which includes a replica of the historic Johnson Mill, has a new owner.
Washington County property records show, IATCM, LLC., owned by Mountain Home businessman Brad Hasselwander bought the 3.45-acre hotel property at 3906 Johnson Mill Boulevard for $5.22 million. The transaction was said to be an all-cash deal.
According to Talk Business, Johnson Mill Ventures, LLC., led by Jesse Burkes, was the seller. Burkes has reportedly been associated with the property for nearly 25 years and was previously the hotel's long time general manager until becoming the owner and operator.
Tom Jordan of Mountain Home represented Hasselwander for the purchase.
The Inn at the Mill has 62 rooms, including 54 standard rooms and eight themed suites. Johnson Mill Ventures added 16 rooms in 2019, two years after completing a deal to buy the hotel and its companion restaurant, James at the Mill, for $4.2 million.
History of the Mill
The historic Johnson Mill that once operated on the property was first legally registered as a tax-paying business in 1835. Following a Civil War battle in Pea Ridge in 1862, the mill was partially burned down by the Confederate Army retreating from the Battle of Prairie Grove to prevent it from falling into the hands of the Union.
The Johnson family ran the mill, fed by a natural spring, from 1906 until 1977, when the mill ceased operation and fell into despair. The mill was reconstructed in 1865 and remained in operation until 1977. Due to its historical significance, the Inn at the Mill received an official Civil War Marker in 2012 from the state of Arkansas.
Today, the property has three buildings, numerous spring-fed water features, and a replica of the old grist mill. According to real estate broker Philip Schmidt, the listing agent for the hotel, approximately 12 million gallons of mineral-rich spring water run through the property from four natural springs.
While 2 million gallons per day are used for the pond and water features, the rest is being diverted. Schmidt said a recent study showed the water to be of exceptional quality. It could be used to irrigate the entire Inn at the Mill property or sold to a bottler or agricultural enterprise for additional revenue.
WebReadyTM Powered by WireReady® NSI